UPSEE 2018 (उत्तर प्रदेश राज्य प्रवेश परीक्षा): The Dr A.P.J Abdul Kalam Technical University organizes the Uttar Pradesh State Entrance Examinations for the students who are seeking admissions in various Undergraduate and postgraduate courses. The aspirants have to submit the UPSEE Application Form 2018 before the due date to appear in the entrance exam successfully. The last date for the submission of the form is in March. The AKTU Admission 2018 will be provided only on the basis of the marks obtained by the students in the entrance exam.
How To Prepare UPSEE 2018 || UPSEE Model Papers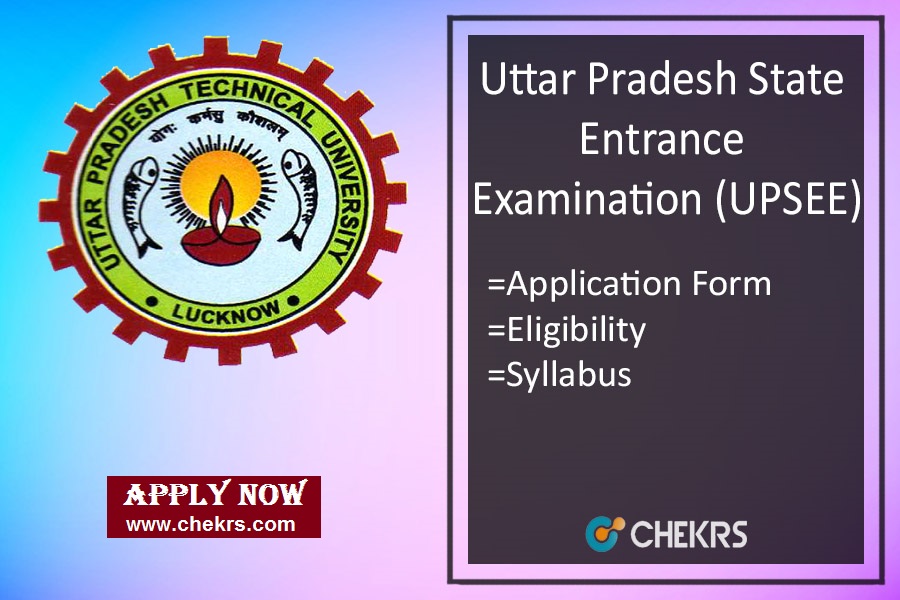 UPSEE Application Form 2018
The students have to submit the UPSEE Registration 2018 to get eligible for the admissions. The students have to access the official website for the submission of the form. We will provide here the direct link for the UPTU Online Application form submission. They just have to follow some precise procedure for the submission of the online form on the web page of the University and board.
Steps to Submit UPSEE Application Form.
Get latest updates via SMS and Email
The students have to access the official website.
then they have to open the UPSEE Apply Online link.
Now enter your all valid details like name, address, qualification etc.
Submit the details and proceed to step two.
Attach the scanned copy of documents, signature and the photograph along with the form.
Now pay the required application fee by online modes.
After this step, submit the form by clicking on the proceed button.
Also, take a print of the generated application form for future references.
UPSEE Registration Fee
For General/ OBC/ Transgender Category: Rs.1000
For PWD/ SC / ST/ Female Category: Rs.500
UPSEE Exam Date 2018
| Events | Dates (Tentative) |
| --- | --- |
| Application Form commences | 3rd week of January 2018 |
| Deadline for the Online Application | 4th week of March 2018 |
| Payment Submission Deadline | 4th week of March 2018 |
| Last Date for the Corrections in form | 4th week of March 2018 |
| Admit Card will release | 1st week of April 2018 |
| UPSEE 2018 | 3rd week of April 2018 |
| Result | 4th week of May 2018 |
| Counselling Starts | 4th week of June 2018 |
UPSEE Eligibility Criteria
The aspirants are advised to check the UPSEE Eligibility 2018 before applying for the application form. Only eligible students will be able to download the admit card.
Courses
Educational Qualification
Marks
Age Limit
B.Arch
Aspirant must have passed 12th with PCM as Compulsory subjects from any recognized board
Must have scored minimum 50% marks in compulsory subjects
Aspirant must have completed 17 years of age.
B.Pharm
Candidate has completed 10+2 with PCB or PCM subjects from any recognized board
They must have scored 45% marks (40% for SC/ST) in main subjects
Aspirant must have completed 17 years of age.
B.Tech
Aspirnat appearing/ Passed intermediate from UP board or any recognized board with PCM can apply.
B.Tech (Bio-Tech)
Passed/ Appearing 12th with PCM or PCB subjects from any recognized board.
BHMCT/MAM/BFA/BFAD
Student passed/ Appearing Class 12 from any discipline can apply.
Must have an aggregate of 45% (40% for SC/ST)
No age limit
MBA/ MCA
Appearing/ Passed Bachelors degree from any recognized board (for MCA must have maths at interlevel or graduation level)
Must have scored minimum 50% marks (45% for SC/ ST)
According to the authority norms.
B.Tech (Agri.)
Completed 12th Class with Agriculture stream from any recognized board
Minimum marks of qualifying exam must be 45% (40% for SC/ST)
Not Specified
For 2nd Year Lateral Entries in UPSEE Courses
MCA (LE)
Aspirant passed BCA, BSc degree from any recognized University
Must have scored minimum 50% (45% for SC/ST)
According to the University Norms
B.Tech (LE)
Appearing/ Passed Diploma in Engineering
Must have scored minimum 45% (40% for SC/ST)
B.Pharm (LE)
Diploma in Pharmacy
UPSEE Syllabus 2018
The aspirants must note that the UPSEE Syllabus Pdf will be uploaded soon on the official website. The syllabus for each exam will vary according to the course. The aspirants are required to follow the below-given syllabus for their preparations.
UPSEE Paper 1 Syllabus
Physics Syllabus
Measurement
Motion in one dimension
Work Power and Energy
Linear Momentum & Collisions
Rotation of a Rigid Body About a Fixed Axis
Mechanics of Solids and Fluids
Heat and Thermodynamics
Laws of Motion
Motion in two dimensions
Wave
Electrostatics
Current Electricity
Magnetic Effect of Current
Magnetism in Matter
Ray Optics and Optical Instruments
Gravitation
Oscillatory Motion
Electromagnetic Induction
Wave Optics and Modern Physics
Chemistry Syllabus:
Atomic Structure
 Chemical Bonding
Acid-Base Concepts
Colloids
Colligative Properties of Solution
Isomerism
IUPAC
Polymers
Redox Reactions
Electrochemistry
Catalysis
Chemical Equilibrium and Kinetics
Periodic Table
Thermochemistry
General Organic Chemistry
Carbohydrates
Solid State
Petroleum
Mathematics Syllabus:
Algebra
Co-ordinate Geometry
Calculus
Probability
Trigonometry
Vectors
Dynamics & Statics
UPSEE Paper 2: Syllabus
Physics and Chemistry Syllabus are same as above
Biology Syllabus(Zoology & Botany):
Zoology:
Origin of Life
Organic Evolution
Human Genetics and Eugenics
Applied Biology
Mechanism of Organic Evolution
Mammalian Anatomy
Animal Physiology
Botany: Plant Cell
Plant Cell
Protoplasm
Ecology
Fruits
Cell Differentiation Plant Tissue
Anatomy of Root
Ecosystem
Genetics
Seeds in Angiospermic Plants
Stem and Leaf
Soil
Photosynthesis
UPSEE Paper 3 Syllabus
AG I Agricultural Physics and Agricultural Chemistry
AG-II Agricultural Engineering and Agricultural Statistics
AG III Agronomy and Agricultural Botany
UPSEE Paper 4: Syllabus
Part- A: Mathematics & Aesthetic Sensitivity
Part- B: Drawing Aptitude
UPSEE Paper 5: Syllabus
Reasoning & Logical Deduction
Numerical Ability & Scientific Aptitude
General Knowledge
English Language
UPSEE Paper 6: Syllabus
Aptitude Test for Diploma Holders in Engineering
The syllabus will be according to the Stream of the candidates.
UPSEE Paper 7: Syllabus
The students have to study the subjects they have studied in their diploma
UPSEE Paper 8 Syllabus (B.Sc Graduates)
Linear Algebra
Calculus
Differential Equations
Complex Variables
Probability and Statistics
Fourier Series
Transform Theory
UPSEE Paper 9 Syllabus (MBA)
English language
Numerical Aptitude
Thinking and Decision Making
General Awareness
UPSEE Paper 10 Syllabus (For MCA)
Mathematics
Statistics
Logical Ability
UPSEE Paper 11 Syllabus (for MCA Lateral Entry)
Mathematical Structures
Computing Concepts
Reasoning Ability
How To Prepare for TOEFL Exam || How To Crack Interview
UPSEE Exam Pattern
Name of Exam: UPSEE 2018
Mode of Exam: Paper-1, 2, 3 & 4 will be OMR based and rest are computer-based exams.
Number of questions: Depends upon the paper
Marking Scheme: 4 Marks for every right answer
Negative marking: No Negative Marking
Paper
Subjects
Marks
Number of Questions
Exam-1

Physics
Chemistry
Mathematics

600
P-50

C-50

M-50

Exam-2
600
150 questions (Each Subject 50 Questions)
Exam-3
600
50 questions each part (150 Questions)
Exam-4
Aptitude Test for Architecture

Part-A: Mathematics & Aesthetic Sensitivity
Part-B: Drawing Aptitude

500
50 question each of Mathematics & Aesthetic Sensitivity with a total of 100 questions and 2 questions from Drawing Aptitude.
Exam-5
Aptitude Test for General Awareness (BHMCT/BFAD/BFA)
300
75 questions
Exam-6
Aptitude Test for Diploma Holders in Engineering (Lateral Entry)
300
75 questions
Exam-7
Aptitude Test for Diploma Holders in Pharmacy (LE)
300
75 questions
Exam-8
Aptitude Test for B.Sc Graduates in Engineering (LE)
300
75 questions
Exam-9
Aptitude Test for MBA
400
100 questions
Exam-10
Aptitude Test for MCA
400
100 questions
Exam-11
Aptitude Test for 2nd year MCA (LE)
400
100 questions