Rotary Peace Fellowship 2018 (रोटरी  पीस  फ़ेलोशिप प्रोग्राम) is offered every year to some of the dedicated and bright professionals for studying at the Peace centers. Every year Rotary selects up to 100 individuals from across the world and provides them Rotary Peace Fellowship Scholarship for pursuing Professional Development Certificate or Masters Degree Program which are related to peace, harmony and conflict resolution. The course under Rotary Peace Fellowship Programme will be offered at on of the participating centers around the world -USA, Japan, UK, Australia, Sweden, Thailand. Therefore eligible aspirants must apply online by filling Rotary Peace Fellowship Application through its official site. In regards to more details such as award, Rotary Peace Fellowship Eligibility, last date etc, go through the article below.
See also
Rotary Peace Fellowship Program 2018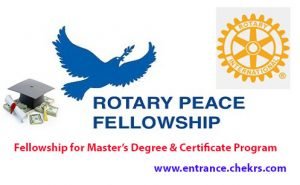 The Peace Rotary Fellowship includes tuition and fees, room and board, round-trip transportation, and all other internship and field study expenses. In the recent times, the Rotary Peace Centers have trained more than 900 fellows for building their careers in peace building. After training under Rotary Peace Scholarship Program, individuals either serve as leaders in national government, military, NGOs, law enforcement, and international organizations like the United Nations and World Bank.
Under this Program two types of Fellowship is available, as discussed below-
Master's Degree Program– This program lasts for 15- 24 months. The Rotary Peace Fellowship-Masters scheme requires an internship of 2-3 months during the academic break
Professional Development Certificate– This is for the experienced professional which lasts for three months with approx 2-3 months of field study.
Rotary Peace Fellowship Eligibility
The master's degree candidate must possess a bachelor's degree or equivalent, along with three years of related work experience, and proficiency in a second language
Candidates applying for the certificate program must have a strong academic background, along with five years of related work experience.
Proficiency in English.
Excellent leadership skills.
Rotary Peace Fellowship Award
The Rotary International Peace Fellowship is offered every year to 50 applicants for master's degree and 50 for certificate studies. The fellowships award includes the tuition and fees, room and board, round-trip transportation, and all the expenses of internship and field study.
Rotary Peace Fellowship Application Form
All the eligible candidates must follow the below-mentioned steps in terms of application process
Log into the official www.rotary.org
Fill the online application form
Attach the required documents(test score, academic/professional certificates, essays)
Submit the application form to your rotary district
Arrange an interview schedule with the district representative.
District representative must submit the endorsed application to the Rotary foundation before the last date.
Important Dates
Submission of application to the districts-May 2018
Submission of endorsed application to the rotary foundation– July 2018
The application for Rotary Peace Fellowship Program 2018 are currently being accepted. Interested applicants can apply soon. For more updates stay tuned to our portal and also get latest notifications of India's Top Scholarship Exam.
See also