Aditya Birla Scholarship 2018
Aditya Birla Scholarship 2018 (आदित्य  बिरला  स्कालरशिप) is offered by Aditya Birla Group for providing outstanding academic excellence to the students of IITS, IIMS, Law and Mangement Graduates. The ABG Scholarship is open to students from defined institutions in India and it covers the academic as well as hostel fees of the students of IITS/BITS, Law and even some part for the management students. Therefore all the interested and eligible aspirants must apply soon by filling the Aditya Birla Scholarship Application Form through its official portal. In regards to more details of eligibility, Aditya Birla Scholarship Amount, important dates etc, go through the information mentioned in the article below.
See also
Aditya Birla Educational Scholarship 2018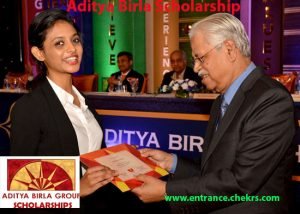 The Aditya Birla Group Scholarship 2018 is offered to the Meritorious Students of(IITs, BITS, XLRI, Law Campus) for providing Financial Help in their academic year 2018-19. The scholarship program includes a large part of academic as well as hostel fee. All the students applying for the scholarship program must fulfill certain Aditya Birla Group Scholarship Eligibility.
Aditya Birla Scholarship Criteria
Applicants belonging to below-mentioned institute can apply for the scholarship-
IIMs- Ahmedabad, Bangalore, Kolkata, Lucknow, Indore, Khozikode, Shillong
XLRI – Jamshedpur
IITs (B. Tech)- Mumbai, Delhi, Chennai, Kanpur, Kharagpur, Roorkee, Guwahati
BITS- Pilani: Campuses
LAW-
National Law School of India University – Bangalore,
NALSAR University of Law – Hyderabad,
The WB National University of Juridical Sciences – Kolkata,
National Law University – Jodhpur
Gujarat National Law University
Selection Process
The Aditya Birla Scholarship Programme entails the below-mentioned process-
160 students from the IIMs and XLRI, 160 students from the IITs and BITS and 80 students from law campuses will be evaluated on the basis of the information provided in application form.
On the basis of academic record, candidates will be selected for next round. The authority will review the Aditya Birla Scholarship Essay written by the applicants and qualify them for the final round.
Shortlisted students will be invited for an interview process and on the basis of which final selection will be made.
Aditya Birla Scholarship Awards
The Aditya Birla Scholarship amount includes a large of academic and hostel fees as mentioned below-
IIMs / XLRI Students- Rs.175000 per Annum
IIT / BITS (Pilani)- Rs.65000 per Annum
LAW Degree candidates- Rs.18000 per Annum
Aditya Birla Scholarship Application Form
Eligible students must fill the Aditya Birla Group Scholarship form through its official portal by following the below-mentioned steps-
Log into official website www.adityabirlascholars.net
Click on Download Application form
Take print out of the form
Fill all the mandatory details
Submit the application form to the Dean.
Contact Information
Aditya Birla Management Corporation Limited.
Aditya Birla Centre
1st Floor, C Wing,
S.K Ahire Marg. Worli.
Mumbai- 400 030.
See also