IPU CET Syllabus (आईपीयू सीईटी सिलेबस, परीक्षा पैटर्न) 2017: All the applicants need the exam syllabus to prepare a study plan for the IPU common entrance test. Those who have filled the application form they all are now searching for the IPU CET Syllabus 2017 to prepare for the examination. The questions that are asked in IPU CET are based on the CBSE class 11th and 12th syllabus. To get admission in university applicants need to pass this common entrance test with good marks. Applicants can also check here the IPU Common entrance Test Exam Pattern 2017. With the help of syllabus and exam pattern, applicants can score high marks in entrance examination. We have covered all the possible topics and subjects that are covered in IPU CET Exam Pattern, Syllabus 2017 that will help the candidates in scoring good marks in practice to qualify the entrance exam.
आईपीयू सीईटी सिलेबस, परीक्षा पैटर्न 2017
आईपीयू सीईटी 2017 सिलेबस, परीक्षा पैटर्न, सैंपल पेपर्स की जांच यहां की जा सकती है, आईपीयू इंजीनियरिंग प्रवेश परीक्षा पैटर्न, मॉडल टेस्ट पेपर नीचे दिए गए डायरेक्ट लिंक का पालन कर के हासिल किये जा सकते है।
IPU CET Syllabus 2017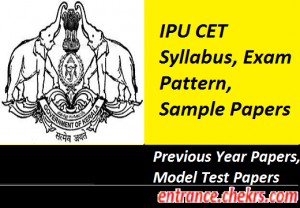 It is very necessary for the candidates to follow the correct guidelines to achieve their desired resultant. All those candidates who are looking for the effective and helpful study material to qualify the examination are advised to follow the complete subject wise syllabus of IPU CET 2017. The question will be asked from class 11th and 12th class CBSE board examination syllabus of Physics, Chemistry, and Mathematics. Here applicants can check the IPU CET 2017 Syllabus in details which are given down.
IPU CET Mathematics Syllabus 2017
Complex Numbers, Linear In equation, Linear Programming.
Sets, Relations and Functions.
Sequence and Series, Permutation and Combinations.
Matrices and Determinants.
Trigonometric and Inverse Trigonometry Functions.
Limit Continuity and Differentiation.
Straight Lines and Conic Sections.
Integration and Differential Equations.
Statistics and Probability.
Vectors and Three-Dimensional Geometry.
IPU CET Chemistry Syllabus 2017
Chemical Equilibrium.
Chemical Arithmetic & Atomic Structure.
Chemical Kinetics.
Chemical Thermodynamics.
Solid State & States of Matter.
Redox Reactions and Electrochemistry.
Surface Chemistry.
Chemical Bonding and Molecular Structure.
Classification of Elements and Periodicity in Properties.
Chemistry of Representative Elements.
Nomenclature and Basic Concepts in the Organic Chemistry.
Transition Elements Including Lanthanides.
Organic Chemistry Based On Function Group-II.
Organic Chemistry Based On Functional Group-I.
Co-Ordination Chemistry and Organometallics.
Organic Chemistry Based On Functional Group-III.
Molecules of Life.
Polymers.
IPU CET Physics Syllabus 2017
Physics and Measurement.
Laws of Motion.
Motion of System of Particles and Rigid Body.
Work, Energy and Power.
Properties of Bulk Matter.
Behaviour of Perfect Gas and Kinetic Theory.
Oscillations and Waves.
Current Electricity.
Electromagnetic Induction and Alternating Currents.
Magnetic Effects of Current and Magnetism.
Electromagnetic Waves.
Dual Nature of Matter and Radiation.
Atoms and Nuclei.
Communication System.
Electronic Devices.
Check Also:
BITS Admission Test Application Form
IPU CET Exam Pattern 2017
With the help of examination paper pattern applicants get to know about the wattage each subject and also get to know that in which subject applicants need to give more time to do a study. Here we are providing to applicants the Exam Pattern of IPU CET 2017. Through exam pattern applicants can make good preparation for an entrance examination.
The time duration of CET exam will be 2:30 Hours.
There are total 150 questions in the exam paper.
The right answer carries 4 marks and any wrong answer 1 mark will be deducted.
Students need to fill the answer into the OMR Sheet.
IPU CET Selection Process 2017
Students will be selected on the basis of their performance in common entrance test. Only those applicants will be select who score more the cutoff in the entrance examination. To admission in university applicants need to clear the Selection Process of IPU CET 2017. The result will be declared on official portal of Guru Govind Singh Indraprastha University (GGSIPU).
Offered Programs of IPU CET 2017
Following are the course which is offered by the university to eligible applicants only.
Chemical Engineering
Bio-Chemical Engineering
Information Technology
Computer Science & Engineering
Electronics & Communication Engineering
Computer Science & Engineering
Electronics & Communication Engineering
Mechanical & Automation Engineering
Power Engineering
Electrical & Electronics Engineering
Instrumentation & Control Engineering
Tool Engineering
Civil Engineering
Environment Engineering
Electrical Engineering
Mechanical Engineering
Mechatronics
Check GGSIPU CET Notification 2017
IPU CET 2017 Syllabus/ Exam Pattern
We are here to inform the candidates who have applied for IPU CET 2017 that the exam date is approaching near with the each passing day and now its the time to prepare the study plan for IPU CET 2017 with updated syllabus, exam pattern. The Candidates can check the complete Exam Pattern of IPU CET 2017 here, there are total 150 questions will be asked from PCM and the total time duration provided to these questions are 2.5 hours (i.e. 150 minutes). If we talk about the IPU CET Syllabus then we want to conclude that the the questions will be asked from CBSE 11th and 12th Board exam syllabus. For any type of queries, you can contact us by leaving your queries at the end of the post, we will respond you as soon as possible.