CUSAT CAT 2018 (कोचीन यूनिवर्सिटी ऑफ साइंस और टैक्नोलॉजी कॉमन एडमिशन टेस्ट): The Cochin University of Science and Technology conducts the Common Admission Test, DAT etc. examinations for the admissions in various courses of the University. The students are required to submit the CUSAT CAT Application Form 2018 before the due date. The student who will fail to do so will not be eligible for the admissions. The CAT, GATE etc qualified students can apply directly for the CUSAT Admission 2018. The exam will be conducted in the month of April and May for all courses.
CUSAT Preparation Tips  ||  CUSAT CAT Syllabus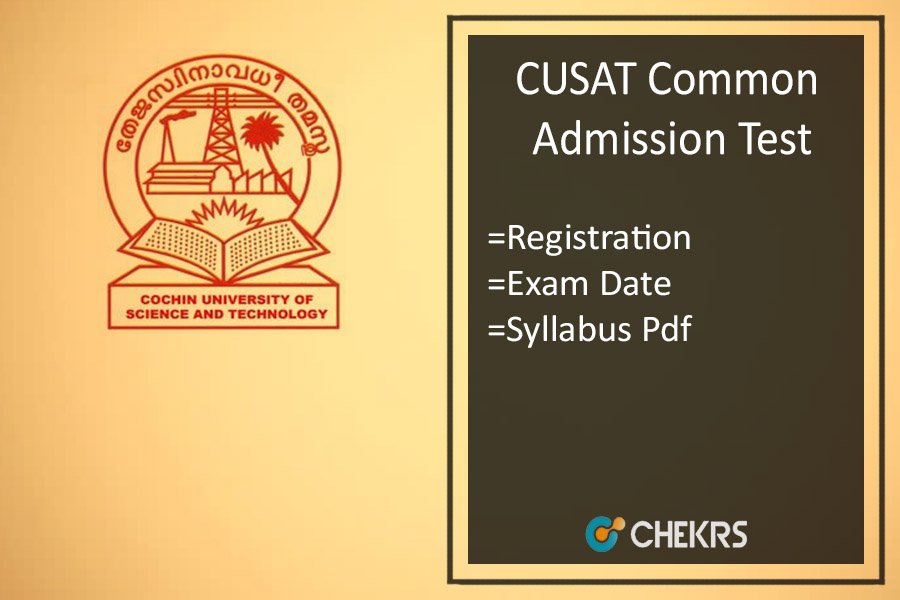 CUSAT Application Form 2018
The students have to apply online for the CUSAT Registrations 2018. The link will be activated on the official website. The last date for the submission of the is in the third week of Feb. We will provide here the direct link for the submission of the CUSAT CAT Admission Form. They just have to follow some precise steps for the submission of the form. The students who will successfully submit the form on time only they will be allowed to enter the exam hall.
Steps to access CUSAT CAT Apply Online 2018 link
The aspirants have to visit the official website.
Then they have to access the apply online link for the application.
Enter your all valid details to register yourself.
Now complete the form after registration.
Attach the scanned copy of documents, signature and photograph along with the form.
Pay the required application fee via online banking.
Also, take a print for the future references.
CUSAT CAT Application Fee
For general Category: Rs.1000
For SC/ST: Rs.500
International Candidates: US$ 100
NRI Candidates: Rs.6000
Opting Dubai As Test Center: Rs.10000
D & M.Phil: Rs.1000 (Rs.200 for SC/ST)
PDF, Diploma, Certificate Programme: Rs.100 (Rs.50 for SC/ST)
CUSAT CAT 2018 Exam Date 
| Events | Dates |
| --- | --- |
| Notification Release | 1st Week of January 2018 |
| Commencement of Applications | 3rd Week of January 2018 |
| Deadline for the Submission | 3rd Week of February 2018 |
| Releasing of Admit Card | 3rd Week of April 2018 |
| CUSAT 2018 | Last Week of April to 1st Week of May 2018 |
| DAT Application Issue Date | 3rd Week of January to 3rd Week of February 2018 |
| Result Announcement | Last Week of May 2018 |
CUSAT CAT Eligibility
The aspirants are required to check the CUSAT Eligibility 2018 before applying for the application form.
Course
Qualification Eligibility
MCA
Science graduate with Mathematics as one of the subjects or graduate in Electronics/Information Technology /Computer Science  /Computer  Applications/ Engineering/Technology with 55% aggregate marks (except language & humanities).
LL.B.

Graduation in any discipline from a University recognized from CUSAT by securing 40% aggregate marks (35% for SC/ST).
Appearing candidates may also apply.

B.Tech Marine Engineering

The student passed 10+2 from any recognized board can apply.
They must have PCM as compulsory subjects and scored minimum 60% marks in those.
Should have passed English at 10th and 12th standard with 50% marks.
Diploma students are not eligible to apply.
Candidate's age should not be more than 25 years as on 1st September 2018.

B.Tech/5-year Integrated M.Sc in Photonics

The aspirant must have passed 12thh Class from any recognized Board.
They must have PCM as compulsory subjects.
Minimum 50% marks is required in Mathematics individually and 50% marks in PCM putting together.

BBA/LL.B. (Hons)/B.Com.LL.B. (Hons.)

The applicant must have passed 12th Class with 60% marks (for science group) and 55% marks (for Arts/Commerce/Humanities group).
Maximum age is 20 years as on 1st July 2018 (22 years for SC/ST/OBC candidates).

M Voc in Technology and Management Consulting

Bachelor's degree in Engineering (in any branch) with 60% marks in MBA or B.Voc degree in relevant discipline with at least 60% marks.

LL.M.

Bachelor's degree in law with minimum 45% marks.
CUSAT CAT Exam Pattern
Name of Exam: CUSAT CAT 2018
Mode of paper: Online
Type of Paper: Multiple Choice Questions (MCQ)
Number of Questions: Vary according to the name of Course
Duration: 3 Hours
Marking Scheme: Three marks will be given for each right answer
Negative Marking: One mark will be deducted for each wrong answer
For B.Tech/ Integrated M.Sc in Photonics Courses
Subjects
No of Questions
Marking
Duration
Mathematics
125
375
3 Hours
Chemistry
50
150
Physics
75
225
Total
250
750
For MCA Courses
Subjects
No of Questions
Marking
Duration
Mathematics
75
225
3 Hours
Logical Reasoning
75
225
Total
150
450
For LLB Courses
Subjects
No of Questions
Marking
Duration
English
25
75
3 Hours
Logical Reasoning
25
75
Legal Aptitude
50
150
General Knowledge
25
75
Comprehension Ability
25
75
Total
150
450
 For BBA LLB /B.Com LLB (Hons)
Subjects
No of Questions
Marking
Duration
Law Related Matters
25
75
3 Hours
General Awareness and Current Affairs
25
75
Reasoning and Logical Thinking Ability
50
150
General English
50
150
Total
150
450
For M.Voc (Management and Technology Consulting)
Subjects
No of Questions
Marking
Duration
Current Affairs in tech and Business
20%
3 Marks for Each Questions
3 Hours
Verbal and Reading Comprehension
25%
Data Interpretation & Logical Reasoning
25%
Quantitative Ability
30%
CUSAT CAT Syllabus 2018
The exam will be conducted on different dates for each exam. The CUSAT Syllabus for each course will vary according to the exam. The students are advised to check the syllabus and topics of the exam. This will help them to prepare according to the exam paper. They will be able to cover all the topics easily.
CUSAT CAT Chemistry Syllabus
Chemical Kinetics
Chemical Bonding
Electro-Chemistry
Chemical Equilibrium
Practical Organic Chemistry
Atomic Structure
Polymers
Lanthanides
Chemistry in Everyday Life
Organic Chemistry
General Principles of Metallurgy
Gases and Liquids
Solutions
Chemical Thermodynamics
Hydrocarbons
Transition Elements
Ionic Equilibrium
Biomolecules
Nucleic Acids
Alkaline and Alkali Earth Metals
Principles of Qualitative Analysis
Haloalkanes
Classification of Elements and Periodicity of Properties
Environmental Chemistry
Aromatic Hydrocarbons
Hydrogen and Its Compounds
Coordination Compounds
Surface Chemistry
Solid State
Phenols, Alcohols and Ethers
Nuclear Chemistry
CUSAT CAT Mathematics Syllabus
Combinations & Permutations
Differential Equalities
Co-Ordinate Geometry
Applications of Derivatives
Binomial Theorem and Its Simple Applications
Properties of Triangles
Mathematical Induction
Circles
Relations, Sets and Functions
Trigonometry
Sequences and Series
Random Variables, Probabilities & Distributions and Statistics
3 D Geometry
Theory of Equations
Vector
Applications of Integrals
Continuity, Limits and Differentiability
Algebra
Ellipse, Parabola, Hyperbola and Polar Co-Ordinates
Determinants and Matrices
Indefinite Integration
Quadratic Equations & Theory of Equations
CUSAT CAT Physics Syllabus
Nuclei and Atoms
Wave Optics
Dual nature of Radiation and Matter
CR Circuits
Kinetic Theory of Gases
Gravitation
Work, Power and Energy
Thermal Properties of Matter
Magnetism
Semi-Conductor Devices and Communication Systems
Wave Motion
Electromagnetism
Rotatory Motion
Centre of Mass
Current Electricity
Dimensions and Units
Elements of Vectors
Collisions
Simple Harmonic Motion
Fluid Mechanics
Surface Tension
Electrostatics and Capacitors
Electromagnetic Induction and AC Circuits
Thermodynamics
Ray Optics and Optical Instruments
Elasticity
Kinematics
Sound
Updates Every Few Days!


Catch-up them all without lining
Subscribe to our mailing list and get interesting stuff and updates to your email inbox.
We respect your privacy and take protecting it seriously