NMIMS NPAT Syllabus 2024: The Exam will be conducted through the online mode. Candidates have to prepare best for the NMIMS NPAT 2024 Exam. It is being conducted by NMIMS University, it is also known as NMIMS Programs After Twelfth. NPAT provide admission into B.Tech, BBA, BSc, MBA, B.Des and many more courses. Due to its importance, we have prepared this post to provide all the information regarding, syllabus, exam pattern, and old papers.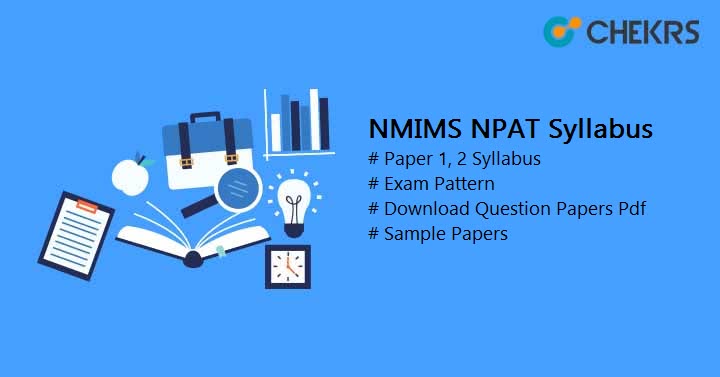 NMIMS NPAT Exam Pattern 2024
The Exam will be conducted through Online Computer-based mode. There will be only one paper except for B.Design. There will be Paper II for students taking admission into B.Design. For all other Courses, the Exam Pattern is Given Below.
Mode of the exam
Online Computer-based
Number of Papers
1
Number of Sections

Proficiency in English Language
Quantitative & Numerical Ability
Reasoning & General Intelligence

Type of Questions
MCQ objective type
Number of Questions
120
Duration of the exam
120 Minutes
Exam Pattern of Paper II for B.Design
| | |
| --- | --- |
| Mode of the exam | Online Computer-based |
| Number of Papers | 1 |
| Number of Sections | 3 |
| Type of Questions | Multiple Choice Questions (objective type) |
| Number of Questions | 60 |
| Duration of the exam | 90 Minutes |
NMIMS NPAT Syllabus 2024: Paper 1 and 2
Interested Candidates can get all the topics from the below table. The Table consists of all the topics which will be covered in Paper 1 and Paper 2.
NMIMS NPAT Syllabus for Paper 1
English Language
Putting ideas into a logical sequence by putting jumbled sentences in the correct order, Locating Information, grasping ideas, identifying relationships, interpreting ideas, moods, characteristics of characters and tone of the passage. Recognizing grammatical structure and usage, using prepositions, determiners, connectives, tenses appropriately, grasping the meaning of underlined words in sentences, using appropriate words in the given context.
Quantitative and Numerical ability
Ratio & Proportions, Time, Work & Distance, 2 D & 3D Figures- Areas & Volumes, basic Algebraic Identities, Equations – Linear & Quadratic Sequence and Series (AP, GP). Sets, Fractions, Surds, and Decimals, Number Series, Percentages, Profit & Loss, Discount, Compound Interest & Annuities,  Operation on Sets and their Applications, using Venn Diagrams, functions, mean, mode, and median, Measures of Dispersion.
Reasoning and General Intelligence
Be able to use the information given in graphs and charts to answer questions. Decision Making, Problem Solving, Derive conclusions from logical premises or assess the validity of arguments based on statement of facts, judge, if the information is given, is sufficient to answer the question or some additional information is required, Venn Diagram (Identify the class-sub class relationship among given group of items and illustrate it diagrammatically) Mathematical Equalities.
NMIMS NPAT Syllabus for Paper 2
Spatial ability and Visualization
Principles of Design: Balance, Proportion, Rhythm, Contrast, Pattern, Movement, Emphasis, and Unity, Sub-construct, Gestalt Principles of Perception – Proximity, Similarity, Continuation and Closure, Huxley-Lester Model: Sight and thought perception, Cognitive Perception involves a myriad of mental processes: interpretation, memory, comparison, salience, association, inventory, analysis and recognition,
Observation and problem-solving
Creative Problem-Solving Techniques (Preparation,
Incubation,
 Illumination,
and
 Verification). Knowledge of spatial composition, lighting, Golden Ratio, Rule of Thirds, Balance, Colour preference (Hue, Saturation, Lightness), Sub-construct, Ability to detect complexity/problems related to ease-of-use of modern/day-to-day devices, Ability to understand spatial relations among 2D and 3D objects,
General awareness and design
Art Movements/Periods- Basic Info, Renowned Historical Artists, and their paintings. Design for Environment to achieve sustainability- Green Design, Process changes and Product changes( focus on intangible products), Designing for social and cultural sustainability- Inclusive Design, Principles of Inclusive design: Responsive, Flexible, Convenient, Accommodating, Welcoming and Realistic, Culture expressed in visual images.
Download NMIMS NPAT Question Papers 2024
Actually, The Exam Authority doesn't provide NMIMS NPAT Previous Year Question Papers, So there is no way to get any of them. However, there are some sample Papers available but we and you can't be sure about them. Still, we are including some of them here.
These papers are consisting of some basic and similar content or type of questions, so you can use them in your preparation.
After all this stuff I don't think you will need to wander here and there in search of preparing stuff/ materials. But if you need more, contact us using the comment box. Good Luck with the NMIMS NPAT 2024. Exam. Keep Visiting.
Official Links: NMIMS NPAT Syllabus 2024.