KEAM 2018
KEAM 2018 (प्रवेश परीक्षा के आयुक्त केरल केएएएम परीक्षा): The Commissioner of Entrance Examination Kerala is going to conduct the KEAM 2018 exam for various engineering courses. The interested students can apply online for the KEAM Application Form 2018. A few years back the KEAM exam eas conducted for admissions in all courses. But now the medical admissions are based upon NEET Exam and admissions in Architecture will be based upon NATA Exam. The KEAM Admissions 2018 will totally depend upon the marks obtained by the candidates in the entrance exam.
How To Crack KEAM   ||  KEAM Syllabus
Get latest updates via SMS and Email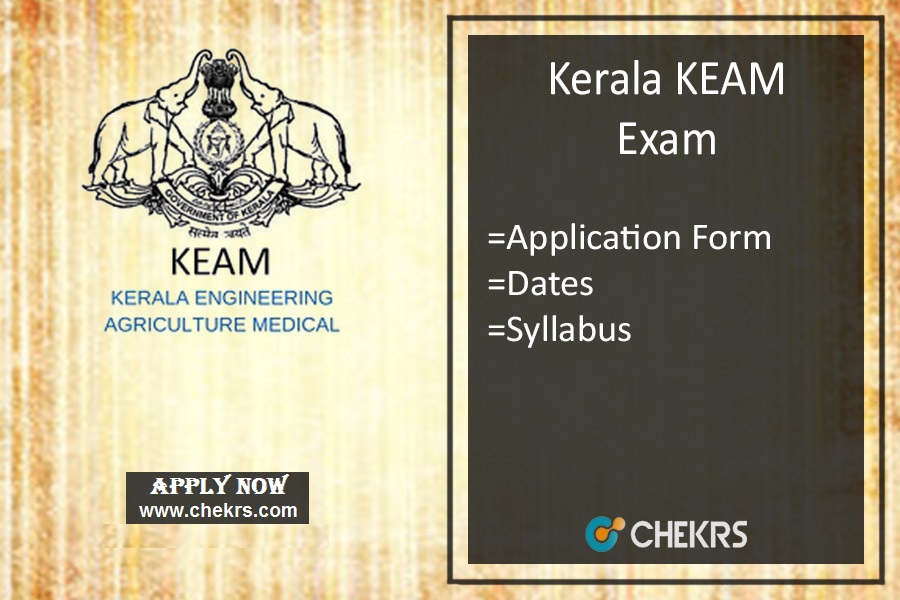 KEAM Application Form 2018
The students can apply online for the KEAM Registration on the official website. The aspirants are required to submit the form before the last date of the form. We will provide here the direct link for the submission of the KEAM Online Application 2018. The form can be submitted by both online and offline modes. The aspirants have to follow some precise procedure for the submission of the online form.
Steps to access the KEAM Apply Online Link.
The students have to open the official website.
Then they have to click on the apply online link present on the home page.
Now fill all the required details in the application form.
The details should be correct and should be filled properly.
Now attach the scanned copy of the documents, photograph and signature along with the form.
Now pay the fee via any of the online or offline modes.
Submit the application form by clicking on the submit button.
Also, take a print for the examination purposes.
KEAM Application Fee
The application fee can be paid through security card or by demand draft.
The aspirants can purchase security card from the Post Office.
For General, the fees will be Rs.1000 and for SC Rs.500 will be paid for the application.
For ST, they are exempted from any fees.
The Demand Draft will be made in favour of Commissioner for Entrance Examination, payable at Thiruvananthapuram.
Postal Address
Office of the Commissioner for Entrance Examinations,
5th Floor, Housing Board Buildings, Santhi Nagar,
Thiruvananthapuram-695001, Kerala
KEAM Exam Date 2018
Events
Date (Tentative)
Commencement of selling security card along with prospectus
1st week of January 2018
Releasing of Application Form
1st week of January 2018
Deadline for the Applications
Last week of January 2018
Admit card release
Last week of March 2018
KEAM 2018
23rd April 2018 for Physics & Chemistry

24th April 2018 for Mathematics

Result Announcemnet
4th week of May 2018
KEAM 2018 Notification: Check Here
KEAM Eligibility Criteria
Nationality
The aspirant must be an Indian Citizen.
The categories are divided into three parts. First is Keralite, second is Non-Keralite Category 1 and the third one is Non-Keralite Category 2
PIO or OCI candidates can also apply for the form.
Age Limit
Minimum: 17 Years (31st December of Admission Year)
Maximum: There is no upper Age Limit.
Educational Qualification
The aspirant must have passed 12th Class form any recognized board.
He/ Shee should have PCM as compulsory Subjects.
They have scored minimum 50% marks in PCM and it is compulsory that they have scored 50% marks in Maths individually.
The aspirants who are appearing for the 12th Class examinations, they can also apply for the form.
KEAM Syllabus
The aspirants who are preparing for the exams are required to check the KEAM Syllabus Pdf. The syllabus will be based upon the topics from the subject like chemistry, mathematics and Physics of plus 2 or Equivalent exam. The aspirants have to study all the topics which are mentioned below. They are advised not to rely on the NCERT books because of the syllabus for the 12th class in Kerala Varies than other states.
Physics Syllabus
Magnetic Effects of Current and Magnetism
Electromagnetic Induction and Alternating Currents
Electromagnetic Waves
Optics
Heat & Thermodynamics
Oscillations
Waves
Electrostatics
Current Electricity
Dual Nature of Matters & Radiations
Introduction & Management
Description of Motion in One Dimension
Description of Motion in Two or Three Dimension
Laws of Motion
Work, Energy, and Power
Motion of System of Particles & Rigid Body Rotation
Gravitation
Mechanics of Solid & Fluids
Atomic Nucleus
Solids & Semiconductor Devices
Principles of Communication Devices
Chemistry Syllabus
Liquid State
Solid State
Periodic Properties of Elements & Hydrogen
Classifications of Element & Hydrogen
S-Block Elements & Principles of Metallurgy
Alkali metals
Basic Concepts & Atomic Structure
Laws of chemical combination
Atomic Structure.
Bonding & Molecular Structure
The States of Matter
Gaseous state
Alkaline earth metals
Principles of metallurgy
P-Block Elements
General characteristics of p-block elements
Boron
Silica
Group 18 elements
xenon
D- and F- Block Elements
d-Block elements
f-Block elements
Lanthanides & Actinides
Thermodynamics
System and surrounding
First law of thermodynamics
The second law of thermodynamics
Chemical Equilibrium
Physical and chemical equilibria
Equilibria involving chemical systems
Concepts of acids and bases
Solutions
Types of solutions
Colligative properties
Redox Reactions and Electrochemistry
Oxidation and reduction
Faraday's laws of electrolysis
Corrosion and its prevention
Chemical Kinetics
Surface Chemistry
Co-ordination Compounds & Organometallic
Basic Principles
Organic Compounds with Functional Groups Containing Oxygen
Organic Compounds with Functional Groups Containing Nitrogen
Polymers & Biomolecules
Environmental Chemistry & Chemistry in Everyday Life
Purification & Characterization of Organic Compounds
Hydrocarbons: Alkanes and cycloalkanes
Alkenes and alkynes
Aromatic hydrocarbons
Organic Reaction Mechanism
Electronic displacement in a covalent bond
Common types of organic reactions
Stereochemistry
Organic Compounds with Functional Groups Containing Halogens
Mathematics Syllabus
Algebra: Sets
Relations and Functions
Complex Number
Quadratic Equations
Sequences and Series
Permutations
Combinations
Binomial Theorem and Mathematical Induction
Matrices and Determinants
Linear Inequations
Mathematical Logic & Boolean Algebra.
Trigonometry Functions & Inverse Trigonometry Functions
Cartesian System of Rectangular Coordinates
Lines
Family of lines
Circles and Family of circles
Conic sections
Vector
Three-Dimensional Geometry
Statistics and probability
Functions
Limit & Continuity
Differentiation
Application of Derivatives
Indefinite Integrals
Definite Integrals
Differential Equations
Latest Scholarships for Undergraduates || How To Crack KEAM Medical
KEAM Exam Pattern
Name of Exam: KEAM 2018
Mode of Exam: Offline (Pen & Paper)
No of Papers: Two
No of Questions: 120
Type of Paper: Multiple Choice Questions (MCQ)
Duration: 2.5 Hours (for Each Paper)
Marking: 4 Marks will be given for each right answer.
Negative Marking: One mark will be deducted for every wrong answer.
| Paper | Subjects | No. of Questions | Total time | Marking |
| --- | --- | --- | --- | --- |
| Paper 1 | Physics and Chemistry | 120 | 2.5 Hours | 480 |
| Paper 2 | Mathematics | 120 | 2.5 Hours | 480 |
| Total | | 240 | 5 hours | 960 |