CIPET JEE Syllabus 2024: Central Institute of Plastics Engineering & Technology Joint Entrance Examination (CIPET JEE) is an entrance exam held at the university level to provide admission in PG Diploma and Diploma courses in plastic construction, molding, processing and testing technology. CIPET will conduct CIPET JEE 2024. in the month of May for the candidates seeking admission into various courses for the academic session 2024-25. Those candidates, who will fill out the CIPET JEE application form to get admission in diploma course, should go through the CIPET Entrance Exam Syllabus.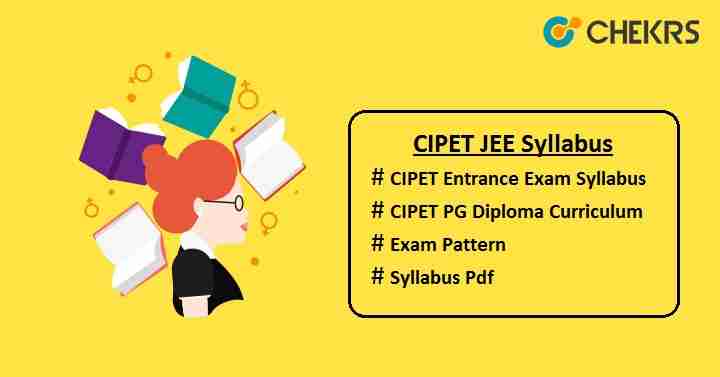 For each entry level, CIPET JEE entrance examination courses will be different. For diploma courses, the syllabus will be comprised of the topics of class 11 & 12 of subjects namely Physics, Chemistry & Mathematics and also current affairs. For the PG Diploma course, the topics covered in the examination will be according to the CIPET PG Diploma Curriculum prescribed by the CIPET including the General Awareness.
CIPET Joint Entrance Exam Syllabus 2024
Check out the CIPET Diploma Syllabus prescribed by the University for better preparation and also to get qualifying marks in the entrance test.
Subjects
Syllabus
Physics

Waves
Oscillations
Thermal and Chemical Effects of Currents
Solids and Semiconductor Devices
Work, Energy and Power
Description of Motion in Two and Three Dimensions
Rotational Motion
Ray Optics and Optical Instruments
Magnetic Effect of Currents
Electromagnetic Waves
Magnetism
Heat and Thermodynamics
Gravitation
Laws of Motion
Introduction and Measurement
Electrostatics
Description of Motion in One Dimension
Electromagnetic Induction and Alternating Currents
Current Electricity
Electrons and Photons
Atoms, Molecules and Nuclei

Mathematics

Theory Of Equations, Sequence And Series
Complex Numbers & Trigonometry
Analytical Geometry
Vector Algebra
Matrices and Determinants
Discrete Mathematics
Probability Distributions
Differential Equations
Integral Calculus And Its Applications Methods Of Integration Standard Types
Differential Calculus

Chemistry

Transition elements (3d series)
Solutions
Electrochemistry
Solid state
Preparation, properties and reactions of alkenes and alkynes
Reactions of benzene
General topics
Principles of qualitative analysis
Surface chemistry
Preparation, properties and reactions of Alkanes
Nuclear chemistry
Practical organic chemistry
Properties and uses of some important polymers
Phenols
Extractive metallurgy
Gaseous and liquid states
Carbohydrates
Energetics
Chemical kinetics
Amino acids and peptides
Chemical equilibrium
Atomic structure and chemical bonding
CIPET JEE 2024 Exam Pattern
CIPET JEE Exam Pattern will give the overview of the question paper and those who will follow it, can get qualifying marks in the exam and able to give the entrance exam with better preparation.
Here we have mentioned the Exam Pattern of CIPET JEE to help students to score good marks in the entrance exam.
| | |
| --- | --- |
| Mode of Examination | Online |
| No of Paper | 2 (Preliminary & Mains) |
| Question Type | Multiple Choice Questions |
| The time duration for Paper-1 | 3 hours |
| The time duration for Paper-2 | 2 hours |
| No of questions (Paper-1 & 2) | 100 |
CIPET JEE Sample/ Model Papers 2024
Students can get CIPET Sample Paper from the official site and can practice it to get good scores in the entrance examination. Practicing last year's papers will help you improve speed and accuracy for the exam. Candidates can download the CIPET JEE Model Papers with the solution in the pdf format and you can know the structure of the question papers. We have also published an article, with the procedure to download CIPET JEE Admit Card 2024. Check the details and follow the procedure.
Official Website: CIPET JEE Syllabus