GCET Syllabus 2024: Written Exam Dates are already announced for Goa CET 2024., According to it Written Exam for Physics and Chemistry is held in May and the written exam for Mathematics is held on 8th May (Expected).  So If you have not started the preparation for it just because you don't have the syllabus, Then luckily you have reached at the right place, Because we are providing it in this article. Additionally, we are also providing Exam Pattern and Goa CET Sample Papers Details.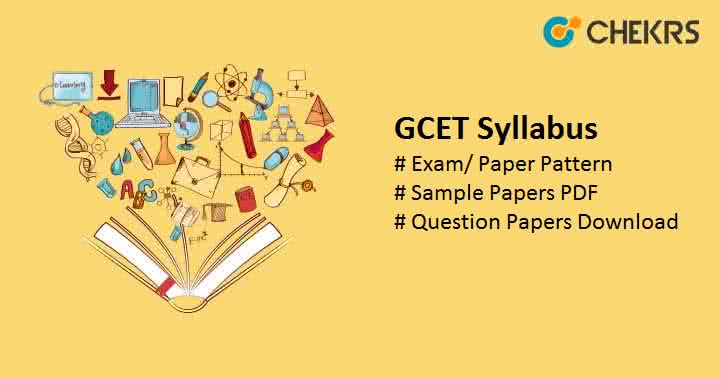 Goa CET 2024 Exam Pattern
The Exam will be conducted through offline Pen and Paper Mode. The paper will have objective type questions. The GCET Paper Pattern indicates that the Paper will have questions from Physics, Chemistry, Mathematics, Biology, and English. All the Other Details are given below.
| | |
| --- | --- |
| Mode of Exam | Offline Pen and Paper Mode |
| Types of Questions | Objective type questions |
| Duration of Exam | 120 minutes |
| No. of Questions | 75 questions will be asked from each subject |
| Marking Scheme | No Negative Marking, 1 mark for each correct answer will be allotted. |
| Subjects | Physics, Chemistry, Mathematics, Biology, and English |
Goa CET Syllabus 2024
 GCET 2024 syllabus will be prepared from the 12th (Science) examination of the same year. The Syllabus will be based on the Goa Board of Secondary & Higher Secondary Education syllabus. Physics, Chemistry, Mathematics and Biology subjects will be considered.
Subjects
Goa CET Syllabus
GCET Syllabus for Chemistry

Solutions
Solid State
Alcohols, Phenols and Ethers
Haloalkanes And Haloarenes
Aldehydes, Ketones and Carboxylic Acids
Chemistry in Everyday Life
Polymers
Biomolecules
Electrochemistry
Surface Chemistry
General Principles and Processes of Isolation Of Elements
Organic Compounds Containing Nitrogen
Chemical Kinetics
d and f Block Elements
Coordination Compounds

GCET Syllabus for Physics

Atoms and Nuclei
Electrostatics
Magnetic Effects of Current and Magnetism
Dual Nature of Matter and Radiation
Electromagnetic Waves
Optics
Electronic Devices
Current Electricity
Electromagnetic Induction and Alternating Currents

GCET Syllabus for Mathematics

Algebra
Calculus
Vectors and Three-Dimensional Geometry
Linear Programming
Probability
Relations and Functions
The above table is prepared from last year syllabus. So must match the syllabus after the official notification.
Goa CET Question Paper 2024
Goa CET Question Papers and Sample Papers can be found on the internet but before the exam period, some institutes/ website and online sources will release the GCET Sample Papers. so we will keep eye on that. Till then you just have to do your best preparation for the GCET 2024. Candidate can also solve some of the available objective type question papers of other exams based on the Goa 12th of Secondary & Higher Secondary Education syllabus, so you can check your preparation regularly. We will also try to find them.
If you have Goa CET Papers or any information about Goa CET 2024., Feel Free to share with us using the comment section. You can also Check: Goa CET Admit Card 2024.
Official Website: GCET Syllabus and Sample Papers 2020.