GATE Biotechnology Syllabus 2022 pdf is now available. Aspirants who have completed their graduation and are currently preparing for the M.Tech course in the department of Biotechnology must go through GATE 2022 Biotechnology Syllabus and start their preparation.
The Graduate Aptitude Test in Engineering (GATE)  is not hard to crack if your preparation is well. Therefore candidates who are currently preparing for GATE in Biotechnology can now easily get here the GATE Biotechnology Syllabus Pdf.  Applicants can also check details of GATE Exam Pattern For Biotechnology and get the precise idea about the examination.
See also: Top M.Tech Colleges  ||  Upcoming Scholarships
GATE Biotechnology Syllabus 2022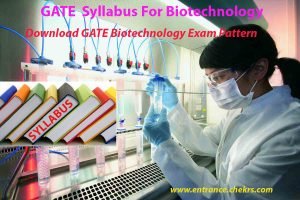 Aspirants who are seeking their career in Biotechnology and are currently preparing for GATE Biotechnology Exam must refer GATE Biotechnology Syllabus. The GATE BT syllabus is similar to Biomedical and bioinformatics. Most of the topics covered in the GATE Syllabus For Biotechnology are related to the three branches and it comprises of three section- Engineering Mathematics, General Aptitude, and Core Biotechnology.
GATE Syllabus and Exam Pattern
Candidates who are preparing for GATE 2022 must have precise details of GATE 2022 syllabus, exam pattern and previous solved papers. Therefore all the interested and eligible candidates who are working very hard for Upcoming GATE examination can now Download GATE Syllabus For Biotechnology from the below-provided link.
GATE Biotechnology Exam Pattern
Aspirants preparing for GATE exam must prepare themselves for the examination on the basis of GATE 2022 Exam Pattern, which is common for all the branches. While going the GATE Exam Pattern For Biotechnology, candidates can have the proper idea about the test such as total marks carried for each question and the difficulty level of examination as well. The examination includes 65 questions of total 100 marks with a total time duration of 3hrs. After going through GATE Biotech Syllabus along with its Exam Pattern, applicants can score a good rank as they come to know about the time duration and can attempt each question within the specified duration. You can check below the details of GATE Biotech Exam Pattern-
Section
Questions
No. of question
Marks per quest
Total marks
General Aptitude
1-5
5
1
5
Technical, Engineering mathematics
1-25
25
1
25
Total question-65
    Total marks-100
                         Total time -3hrs
Technical section-70 marks
General Aptitude-15
General mathematics- 15
GATE Biotechnology Syllabus
The GATE Biotechnology Syllabus Pdf 2022 will provide you with the idea of the important concepts and topics of GATE examination. To receive more updates keep visiting our site and we will also notify you with GATE updates