ATIT 2018 (आईसीएफएआई टेक स्कूल प्रवेश परीक्षा): The admission test for ICFAI tech now known as ITSAT (ICFAI Tech School Admission Test) is conducted by ICFAI university for the admissions in various engineering courses. The interested students can apply for the ATIT Application Form 2018 from the 1st week of March. The last date for the submission of the form is 9th April 2018. The students have to appear in the entrance exam to get successful ICFAI Admissions 2018. The exam will be conducted on 28th April for Offline mode and from 23rd to 30th April for Online mode.
ATIT Syllabus || ATIT Preparation Tips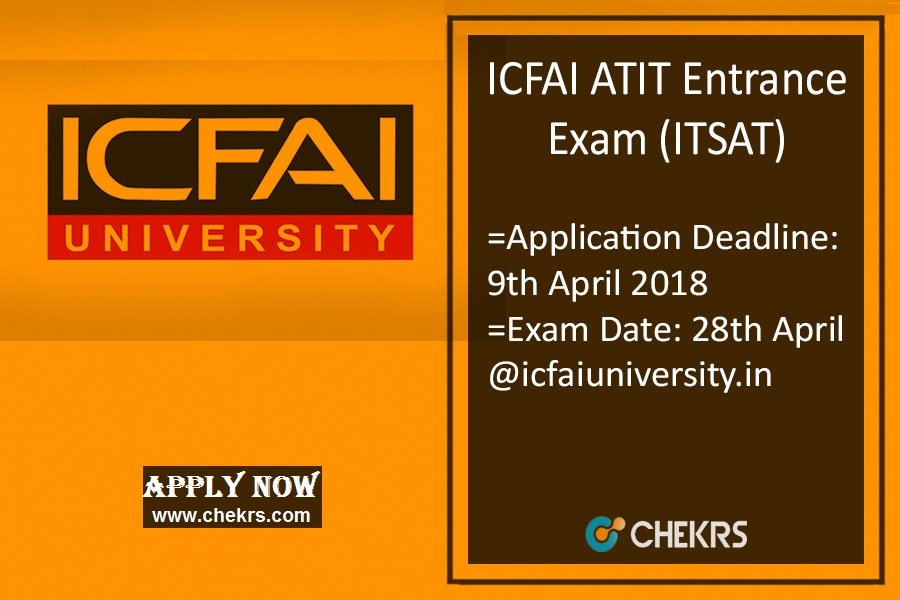 ATIT Application Form 2018
The students are required to submit the ICFAI Application Form 2018 on the official website. The deadline for the online form is 9th April. We will provide here the direct link for the submission of the ATIT Online Application Form. The students just have to follow some precise procedure for the submission of the form.
Steps to submit ICFAI ATIT Application Form 2018.
The students have to open the official website.
Then they have to click on the apply online link present at the end of the homepage.
The aspirants have to enter their all valid details in the form like name, qualification etc.
 Then they have to attach the scanned copy of documents, photograph and signature along with the form.
The aspirants must note that the e-mail id they have mentioned is valid.
The login id and password will be sent on that id only.
Now pay the required application fee via nay of the online modes.
Submit the form by clicking on the submit button.
For Offline Applications
The aspirants have to download the application form from the official website.
Then fill all your details with a ball or gel pen.
The aspirants must note that the details must be correct and valid.
After completing the form, attach the photocopy of the documents along with the form.
The fees will be paid via demand draft.
Send the form to the address mentioned here in the article.
Postal Address
Admissions Officer (B.Tech Program)
ITSAT Office, Plot#65, Nagarjuna Hills,
Punjagutta, Hyderabad-500082, Telangana State,
Ph:04023440967, Toll-Free:18005990767
E-mail: btechadmissions@icfaiuniversity.in.
ATIT Application Form Fee
The students have to pay Rs.500 for the application form.
For Online form, the fees can be paid through any of the online banking modes via secure internet payment gateway.
For offline form, the payment of fees will be done through demand draft in favor of "IFHE-Prospectus Fee A/C ITSAT 2018" Payable at Hyderabad.
ICFAI ATIT Exam Date 2018
| Events | Dates |
| --- | --- |
| Commencement of Application Form | First Week of March 2018 |
| Deadline for the submission of the Form | 9th April 2018 |
| Exam Scheduling Dates | 1st February to 20th April 2018 |
| Admit Card Release | With Scheduling of Test |
| ATIT 2018 (Online Exam Date) | 23rd April to 30th April 2018 |
| ATIT 2018 (Offline Exam Date) | 28th April 2018 (10 AM to 12 PM) |
| Result Announcement | 7th May 2018 |
| Interview | 1st June to 4th June |
| Classes will start from | 16th July 2018 |
ATIT Eligibility Criteria
Nationality
The aspirant must be an Indian Citizen.
They must have their domicile certificate.
Age Criteria
Minimum: 17 Years
Maximum: Not Specified
Educational Qualification
Campus
Eligibility
For IFHE (Hyderabad)

ICFAI University (Dehradun)

ICFAI University (Jaipur)

ICFAI University (Jharkhand)

ICFAI University (Raipur)

The aspirant must have passed 12tht Class from any recognized board.
They must have PCM and English as their compulsory subjects.
The student must have scored minimum 50% marks in the qualifying exam.
The aspirants who are appearing they can also apply.
The aspirants can get admissions in the University via JEE Mains/ or any state level exam but the chances of ATIT Exam qualified students are more.

ICFAI University (Himachal Pradesh)

The students who are going to opt ICFAI university Himachal Pradesh, they have no need to appear for the ITSAT Exam.
They must have qualified 12tht Class examinations with PCM as compulsory subjects from any recognized University.
They must have scored minimum 55% marks in their qualifying exam.
Aspirants must have a valid JEE Main 2018 Scorecard.
ICFAI ATIT Exam Pattern
Name of Exam: ATIT (Now ITSAT)
Mode of Exam: Online and Offline
Type of Exam: Multiple Choice Questions (MCQ)
Subjects: Physics, Chemistry, mathematics and English.
Number of Questions: 30 Questions (Per Section)
Duration: 2 Hours
Subjects
No of Questions
Duration
Physics
30
2 Hours
Chemistry
30
English
30
Mathematics
30
Total
120
ATIT Syllabus 2018
The students have to study the ITSAT Syllabus 2018 properly. It will help them cover all the topics from which the questions in the exam can be asked. The students will be able to crack the exam if they study all the topics on daily basis with a proper plan.
ATIT Mathematics Syllabus
Trigonometry
Vector Algebra
Statics
Complex Numbers
Probability
Dynamics
Binomial Theorem
Integral Calculus
Differential Calculus
Two Dimensional Geometry
Series and Sequences
Sets, Relations and functions
Matrices and Determinants
Combinations and Permutations
Quadratic Equations
Differential Equations
Three Dimensional Geometry
Measures of Central Tendency and Dispersion
ATIT Physics Syllabus
Laws of Motion
Rotational motion and moment of inertia
Solids and Fluids
Waves
Electromagnetic Waves
Ray optics
Current Electricity
Magnetic Effects of currents
Alternating Currents
Magnetostatics
Electromagnetic Induction
Atoms, Molecules and Nuclei
Solids and Semi-conductors devices
Electron and Photons
Description of Motion in one dimension
Units and Measurement
Description of motion in two and three dimension
Work, Energy, and power
Gravitation
Thermodynamics and Heat
Oscillation
Electrostatics
Transference of heat
Thermal and Chemical Effects of Currents
ATIT Chemistry Syllabus
Inner Transition Elements
Transition metals including lanthanides
Nuclear Chemistry
Chemical Energetic
Surface chemistry
Rates of chemical reactions and chemical kinetics
Molecular Structure and Chemical Bonding
Organic Compounds Containing Halogens
Hydrocarbons
Chemistry in Action
Organic Compounds Containing Oxygen
Synthetic and Natural Polymers
Bio-Molecules and Biological Processes
Organic Compounds containing Nitrogen
Environmental Chemistry
Chemical families – Periodic Properties
Chemistry of lighter metals
States of matter
Some Basic concepts
Atomic structure
Thermodynamics
Solutions
Second law of thermodynamics
Chemistry of Non-metal
Chemistry of Representative Elements
Heavy Metals
Coordination chemistry and organic metallics
Purification and Characterization of organic compounds
ATIT English Syllabus
Formation of effective sentences
Vocabulary
Diction
Common Errors
Reading Comprehension
Sentence Completion
Scholarships for UG Courses || How To Crack JEE
Updates Every Few Days!


Catch-up them all without lining
Subscribe to our mailing list and get interesting stuff and updates to your email inbox.
We respect your privacy and take protecting it seriously