Assam CEE Counselling 2020 is going to be conducted by Dibrugarh University tentatively in the 2nd week of July, 2020 for providing admission to Engineering and medical courses offered by the colleges of Assam. Candidates who qualify Assam CEE 2020 will be called for Assam CEE Counselling which will be conducted in three rounds.
During the  Assam CEE Counselling Procedure 2020, the admission will be granted to the candidates according to their merit rank in the entrance examination. Therefore to attend the Dibrugarh University CEE counselling,  candidates must fill the Form-B, which include the personal, educational and address details of the candidates as well as the preferences of college and courses. In regards to more details of Assam CEE Counselling Schedule, check details below.
See also : J&K BPEE CET Counselling || UPESEAT Counselling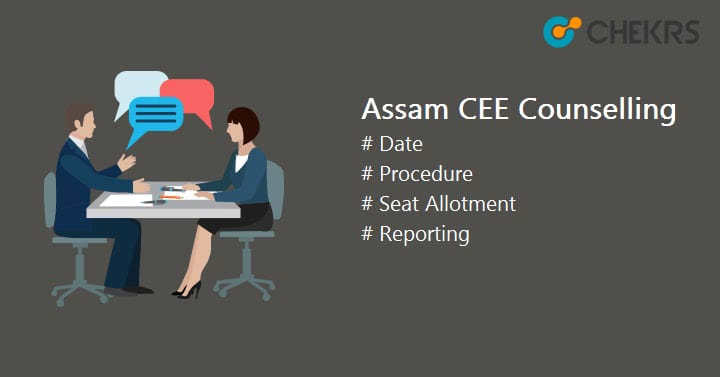 Assam CEE Counselling 2020
 Assam CEE Counselling 2020 is going to be conducted in 2nd week of July 2020. Applicants must fill and submit the counselling form (Form-B). which they can download from the official website. All the Assam CEE qualifiers, JEE Main 2020 qualifiers will be eligible to appear the Dibrugarh University counselling process for admission into the professional courses in the prestigious institutions of Assam.
Assam CEE Counselling Schedule 2018
Date 2018
Category
Time
CEE 2018 Rank From – To
9th July
PwD
9:30 AM
397
9623
Unreserved
10:00 AM
1
297
1:30 PM
298
538
10th July
Unreserved
9:30 AM
539
772
OBC/MOBC (NCL)
1:30 PM
5
613
11th July
OBC/MOBC (NCL)
9:30 AM
615
1349
TGLC (NCL)
1:30 PM
655
2244
EX-TGLC (NCL)
58
1406
Matak (NCL)
87
660
Moran (NCL)
146
4121
ST (P)
19
2840
12th July
ST Hills
9:30 AM
212
6246
SC
11
1483
FF
257
1392
CGE
104
3723
RDP
383
990
Unreserved (Waiting)
773
951
13th July
Unreserved (Waiting)
9:30 AM
952
1121
OBC/MOBC (NCL)
1:30 PM
1351
1992

14th July

(waiting)

OBC/MOBC (NCL)
9:30 AM
1995
2489
TGLC (NCL)
2630
9961
EX-TGLC (NCL)
1612
10023
Matak (NCL)
739
6349
Moran (NCL)
4554
9850
ST (H)
6315
10070
SC
1:30 AM
1494
4486
ST (P)
2863
5093
FF
1606
9637
RDP
1033
9606
Assam CEE Counselling Procedure 2020
While appearing for Assam CEE Counselling, applicants must go through number of steps, which you can check below-
Candidates attending for Counselling must fiil the form B application where they can fill their choice of course and institute. For filling the application form candidates must the fill the following details.
Preferences of courses (only 03)
Preferences of colleges (only 03)
Name of the applicant (in Block Letters)
Gender
Residential address
Parent's Name & Information
Age
Nationality
Religion
Category
University details
Xth and XIIth examination marks & details
Domicile of Assam
Declaration of the Candidate
Photograph on the designated space
Signature of the applicant as well parents/guardians
Document Verification
While attending CEE Assam Counselling 2020 candidate must carry the below-listed original copy of documents along with self-attested copies with them for the verification purposes.
X mark sheet
XII mark sheet
The Category Certificate (if applicable)
Permanent Residence Certificate (PRC) issued by the competent authority
Academic Gap Certificate for the candidates who passed XIIth in the year 2016
Character Certificate from the Head of the Institution
Four recent passport size photographs
Payment of Fee
After the verification of documents candidates must make payment of admission fee as prescribed.
Assam CEE Seat Allotment
See also
Candidates will be allotted seats as per their rank in the merit list.
Three rounds of Counselling of will be held for the Assam CEE seat allotment process
Eligible candidate will be allotted seats as per – choices filled, reservation,  merit list and Current seat matrix
In case of availability of vacant seat after the seat allotment process, a list of vacant seats will be provided which include the Date, Venue and Time of next round of counselling for Assam CEE & JEE Main candidates.
Get more details of Assam CEE Counselling 2020,by visiting our site regularly and we will notify you latest details of Dibrugarh University Counselling Procedure along with Upcoming Engineering PG exams