UPESEAT 2018
UPESEAT 2018 (यूनिवर्सिटी ऑफ पेट्रोलियम और एनर्जी स्ट्डीज़ इंजीनियरिंग एटिट्यूड टेस्ट): The UPE University Dehradun conducts University of Petroleum and Energy Studies Engineering Aptitude Test for the admissions in various engineering streams. The students are advised to submit the UPESEAT Application Form 2018. As the 80% seats for the admissions will be filled according to the UPESEAT scorecard. rest of the seats will be provided on the basis of JEE Main and Board merit list. The aspirant has to qualify the test for to get successful UPES Admission 2018.
UPESEAT Preparation Tips  ||  How To Prepare for Engineering Entrance Exam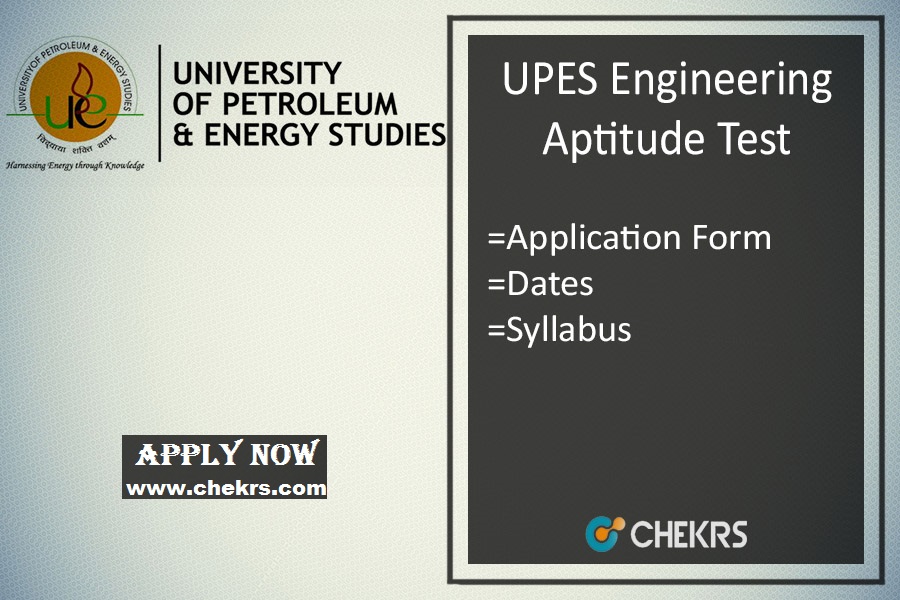 UPESEAT 2018 Application Form
The students have to submit the UPES Entrance Exam Application Form 2018 on the official website. The last date for the submission of the form is in May 2018. We will provide here the direct link for the submission of the UPESEAT Exam Application Form. They just have to follow some precise procedure for the submission. The online applications will be submitted via both online and offline modes.
Steps to submit UPES Application Form 2018.
For Online mode
The students have to access the official website.
Then they have to click on the link regarding the application form.
Now enter your all valid details in the form like name, qualification etc.
The next step is to select the preferences for the centre.
Now attach the scanned copy of required documents along with the form.
Pay the required application fee via online modes.
Submit the form by hitting the submit the button.
Also, take a print for the future reference.
For Offline mode
The aspirants have to purchase the application form along with the prospectus from the admission counters.
Then they have to fill all the details with the blue ball or gel pen.
They are advised to fill the form carefully without any mistake.
Now attach the copy of documents and a photograph with the form.
The fees will be paid during the purchase of the form via demand draft in favor of "UPES Fee Account" payable at New Delhi.
UPESEAT Application Fee
The aspirant has to pay Rs. 1850 through DD or Online payment and in case of cash they have to pay Rs.1750 for the form.
The payment will be done only by credit card/ Net Banking/ Debit card.
UPESEAT Exam Date 2018
Events
Dates
Commencement of online application form
Available
Deadline to apply online
20th April 2018
Admit Card Releases
2nd week of May 2018
UPESEAT 2018
5th May 2018 (Offline)

11th to 13th May 2018 (Online)

Result
1st week of June 2018
Counselling for board merit applicants
3rd week of June 2018
Counselling for JEE Main students
3rd week of June 2018
Commencement  of Counselling Starts
4th week of June 2018
UPESEAT Eligibility
Age Limit
The aspirant born after 1st Oct 1996 can apply for the form.
Educational Qualification
Pathway
Eligibility
UPESEAT

The aspirant must have passed 12thth Class from any recognized board.
They must have PCM as the compulsory subjects.
They must have score minimum 60% marks in the qualifying exam.

For Board Merit

The student must have passed 12thh board exams from a recognized board.
The aspirant must have score minimum 80% marks in the board exams.
They should have PCM as compulsory subjects with 60% aggregate.

For JEE main

The aspirant must have passed 12thh Class from any recognized board.
They have to qualify the JEE mains exam cut off.
Must have secured minimum 60% marks in the board exams.
 UPESEAT Exam Pattern
Name of Exam: UPESEAT
Mode of Exam:   Offline
Type of Questions: Multiple Choice Questions (MCQ)
No of Questions: 200 Questions
Subjects: Mathematics, Physics, Chemistry, English Language Comprehension, Current Affairs Awareness.
Marking Scheme: One mark will be given for every right answer
Negative Marking: There is no negative marking
| Subjects | Total Question |
| --- | --- |
| Chemistry | 50 |
| Mathematics | 50 |
| Physics | 50 |
| Current Affairs Awareness | 30 |
| English language Comprehension | 20 |
| Total | 200 |
UPESEAT Syllabus 2018
The students have to check the UPES Engineering Aptitude Test Syllabus for their preparations. the topics in the syllabus are provided herein details os that students cna easily understand them. The exam will be conducted in May so there is very less time remaining for the students for their studies.
How To Crack JEE || Scholarship for B.Tech
UPESEAT Chemistry Syllabus
Organic compounds containing Nitrogen
Thermodynamics
Surface Chemistry
Environmental Chemistry
Alcohols, Phenols, and Ethers
Organic Chemistry: Basic Principles & Techniques
Hydrogen
d and f Block Elements
Structure of Atom
Biomolecules
Electrochemistry
Band theory
Aldehydes, Ketones and Carboxylic Acids
Chemical Kinetics
States of Matter: Gases and Liquids
Coordination Compounds
Haloalkanes and Haloarenes
Solutions
Solid State
Redox Reactions
Lanthanoids Actinoids
Hydrocarbons
Haloarenes
Polymers
Basic Concepts of Chemistry
P-Block Elements
Haloalkanes
Some p-Block Elements
General Principles and Processes of Isolation of Elements
s-Block Elements
Classification of Elements & Periodicity in Properties
Chemical Bonding and Molecular Structure
Equilibrium
UPESEAT Physics Syllabus
Current Electricity
Kinetic Theory
Motion in a Straight Line
Nuclei
Kinetic Theory of Gases
Thermodynamics
Electromagnetic Induction
Wave Optics
Atoms
Electrostatic Potential and Capacitance
Thermal Properties of Matter
Communication Systems
Mechanical Properties of Solids
Laws of Motion
Work, Energy, and Power
Units and Measurements
Motion in a Plane
Oscillations
Alternating Currents
Electric Charges and Fields
Materials, Devices and Simple Circuits.
Waves
Physical World
Dual Nature of Radiation and Matter
System of Particles and Rotational Motion
Oscillation & Waves
Semiconductor Electronics
Moving Charges and Magnetism
Magnetism and Matter
Mechanical Properties of Fluids
Electromagnetic Waves
Gravitation
Optical Instruments and Ray Optics
UPESEAT Mathematics Syllabus
Applications of Derivatives
Integrals
Co-ordinate Geometry
Differential Equations
Applications of the Integrals
Algebra
Calculus
Statistics and Probability
Vectors
Probability
Linear Programming
Continuity and Differentiability
Three-dimensional Geometry
Calculus
Inverse Trigonometric
Mathematical Reasoning
Matrices
Relations and Functions
Determinants
UPESEAT English Syllabus
General 12th class board exam English-related questions
reading comprehensive
grammar-related questions
Correct sentence
UPESEAT Current Affairs Syllabus
Current news
Current events news
latest awards and achievements
Updates Every Few Days!


Catch-up them all without lining
Subscribe to our mailing list and get interesting stuff and updates to your email inbox.
We respect your privacy and take protecting it seriously