PESSAT Syllabus 2018
PESSAT Syllabus 2018: Candidates who are preparing for the PESSAT, must be searching for the study material to prepare themselves for the entrance exam. The questions that are included PESSAT Syllabus 2018 are from 11th & 12th class Physics, Chemistry, Mathematics, and English syllabus. With the help of syllabus, applicants will get to know about the topics from where the questions will be asked. If we talk about the PESSAT Exam Pattern, then we want to conclude that total 180 questions (M:P:C:E = 60:60:40:20) will be asked in the exam. Through the exam pattern, applicants will get to know the marking criteria of subject wise topics that are included in PES Scholastic Aptitude Test Syllabus 2018. We have discussed the complete syllabus and exam pattern of PES SAT here, you are advised to follow the complete details given below.
PESSAT Syllabus 2018 Download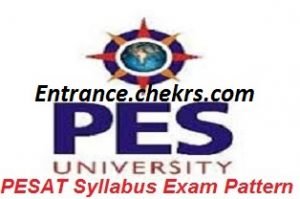 The subjects that are included in PES Scholastic Aptitude Test Syllabus 2018 are Mathematics, Physics, and Chemistry of CBSE class 11th and 12th. For checking the subject wise topics in detail the candidates are advised to follow the information given below. It is a very crucial part for all the to follow the systematic exam pattern and precise syllabus for getting selected in PES University to carry various engineering programs.
PESSAT Physics Syllabus 2018
Alternating Currents
Laws of Motion
Communication Systems
Oscillation & Waves
Current Electricity
Work, Energy, and Power
Physical World
Moving Charges and Magnetism
Dual Nature of Radiation and Matter
Units and Measurements
Mechanical Properties of Solids
Materials, Devices and Simple Circuits.
Magnetism and Matter
Electric Charges and Fields
Nuclei
Kinetic Theory of Gases
Oscillations
Waves
Electrostatic Potential and Capacitance
Motion in a Straight Line
Kinetic Theory
Electromagnetic Waves
Wave Optics
Mechanical Properties of Fluids
Optical Instruments and Ray Optics
Gravitation
System of Particles and Rotational Motion
Electromagnetic Induction
Thermodynamics
Motion in a Plane
Thermal Properties of Matte
Atoms
Semiconductor Electronics
PESSAT Chemistry Syllabus 2018
Organic compounds containing Nitrogen
Thermodynamics
Structure of Atom
States of Matter: Gases and Liquids
Chemical Bonding and Molecular Structure
Classification of Elements & Periodicity in Properties
Lanthanoids Actinoids
Band theory
Solid State
Solutions
Coordination Compounds
Environmental Chemistry
s-Block Elements
Classification of solids based on different binding forces
Chemical Kinetics
Redox Reactions
Organic Chemistry: Basic Principles & Techniques
Surface Chemistry
Equilibrium
Hydrogen
Some p-Block Elements
Electrochemistry
General Principles and Processes of Isolation of Elements
Haloarenes
Alcohols, Phenols, and Ethers
P-Block Elements
Haloalkanes and Haloarenes
Polymers
Biomolecules
Haloalkanes
Aldehydes, Ketones and Carboxylic Acids
d and f Block Elements
Basic Concepts of Chemistry
Uses and environmental effects
Hydrocarbons
PESSAT Mathematics Syllabus 2018
Applications of Derivatives
Three-dimensional Geometry
Vectors
Continuity and Differentiability
Calculus
Statistics and Probability
Vectors And Three-Dimensional Geometry
Inverse Trigonometric
Calculus
Algebra
Matrices
Mathematical Reasoning
Algebra
Co-ordinate Geometry
Linear Programming
Differential Equations
Integrals
Applications of the Integrals
Relations and Functions
Determinants
Probability
PESSAT English Syllabus 2018
Reading Skills
Writing Skills
Grammar
Literature & Long Reading Text
Assessment of Speaking & Listening Skills
PES SAT Exam Pattern 2018
Applicants have to check the complete PESSAT Exam Pattern to get the information about the exam paper. They will be able to access the complete structure of the exam from where the questions are asked in PES Scholastic Aptitude Test 2018. All the necessary details about the exam such as exam type, mode of exam, no of questions, time duration, sections in which the marks are subdivided etc. can be checked below:
Paper Language: English Language.
Total Duration: 180 Minutes (i.e. 03 Hours).
Total No. of Questions: 180 questions.
All the questions will be asked from the Physics, Chemistry, Mathematics and English subjects.
Marks per Question: 1 marks
Sr. No.
Subject
No. of Questions
Time Duration
1
Mathematics
60
180 Minutes
2
Physics
60
3
Chemistry
40
4
English
20
PESSAT Selection Process
Candidates will be allotted the seats as per the rank and the marks obtained in the PES Scholastic Aptitude Test 2018. For getting the admission in PES University, applicants need to qualify the online exam and then after clearing PESSAT Cutoff 2018, they will be called for PESSAT Counselling. Seat Allotment of PESSAT will be held in June 2018 after declaration the result. Only those candidates will be allotted the seat for the BSAU classroom engineering courses, who clears the PES SAT Merit List 2018.
All the applicants who fill the application form they all are will be select on the basis of their performance in PES Scholastic Aptitude. The applicants will also select on the basis of the Merit list of exam. The Merit List will be generated by the performance in the aptitude test. To get admission PES university applicants must have to clear the PESSAT 2018 Selection Process.
PESSAT Exam Pattern, Syllabus 2018
The candidate who have successfully applied for the PESSAT Exam, they must be looking for some study material in practice to score good marks in PES Scholastic Aptitude Test 2018. Candidates will be able to check PES Scholastic Aptitude Test Syllabus, Exam Pattern online here by following the details given below. In the PES university aptitude test, the examination question will be asked from CBSE class 11th and 12th Physics, Chemistry, Mathematics, and English Grammer. By following the topic wise Syllabus, Exam Pattern of PESSAT 2018 the candidates will be able to manipulate their strength and weak points in practice to resolve the weak section. The PES University is conducting the PES Scholastic Aptitude Test for undergraduate applicants admission. For any other details about PESSAT Exam Pattern, Syllabus, you are advised to contact us by leaving your comments at the end of the post, we will respond you as soon as possible.