NGS Scholarship 2017(नेशनल  यूनिवर्सिटी  ऑफ़  सिंगापुर   ग्रेजुएट  स्कालरशिप) is being awarded by National University of Singapore to the students who want to pursue Doctor of Philosophy (PhD) program at NUS Graduate School for Integrative Sciences and Engineering. The NGS Research Scholarship is awarded to the young and talented aspirants for supporting them with an aptitude for innovative, high calibre PhD research. It's a full-time program and to apply for NGS NUS Full Scholarship 2017, applicants must possess a Bachelors degree. Interested and eligible aspirants must apply online for the scholarship scheme by filling NGS Scholarship Application before the deadline 15/5/2017. To get more details of NGS Scholarship interview, eligibility, important dates, go through the article below.
See also
NGS Super Scholarship 2017
| | |
| --- | --- |
| Scholarship Type | Full paid |
| Course level | Phd |
| Subjects | Science, Engineering, Computing, Medicine |
| Duration | 4 years |
| Application start date | 30/3/2017 |
| Application end date | 15/5/2017 |
| Country of study | Singapore |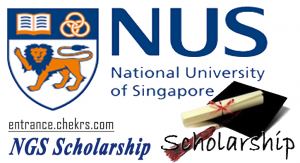 All the graduates who possess a high passion for research are eligible to apply for NUS Graduate Scholarship.The NUS Graduate School for Integrative Sciences and Engineering (NGS) is the home of cross-disciplinary PhD research and educational courses. With its intensive research programme offered under NGS PHD Scholarship 2017, students can receive research excellence and compete with the outer world at the best level.
Eligibility Criteria
Any graduate who has a passion for cross-disciplinary research in science, engineering, computing, and related aspects of medicine.
Graduate with at least 2nd Upper Honors, or equivalent qualifications.
Minimum score of 85% for all the modules he has taken in the undergraduate course
GRE is compulsory for all candidates except for applicants from NUS or NTU.
TOEFL is compulsory for the applicants whose native tongue or medium of undergraduate instruction is not in English.
Selection Process
The results are declared after three months from the closure of application process.All the shortlisted applicants will be notified via email or phone. The shortlisted applicants must further proceed to NGS Scholarship Interview round.
NGS Super Scholarship Awards
The NGS Scholarship Terms and Conditions are discussed below
Candidates will be offered a monthly stipend of S$ 3,000 for international student up to 4 years of the PhD studies, or up to date of graduation, whichever is earlier.
Full tuition fee subsidies for 4 years are available.
Other allowances include computer allowance, book allowance, and conference allowance.
Student must commit to PhD course from the outset, cannot exit with MSc.
NGS Scholarship Application 
The application process for NGS Scholarship Singapore is applicable online and candidates must follow the below mentioned steps-
Candidate must apply online by clicking on https://inetapps.nus.edu.sg/GDA2/Home.aspx
He/She must enter all the mandatory details.
Applicants must upload all the required documents.
Applicants must compile all the documents in a single PDF file and email it to ngsbox4.nus.edu.sg.
Documents to be uploaded
Two Academic Referee Reports
Statement of Purpose of at least two pages on A4-size paper
Research Proposal of at least two pages on A4-sze paper
A copy of Masters/ Bachelors Degree Transcript and Certificates with English Translation.
Copy of Publication.
Personal CV.
Document of funds specifying self-financing, in case, the applicant has not been able to get the scholarship.
For Singaporean Citizens, the copy of NRIC or Citizenship certificate/ re-entry permit. Singaporean
NUS Scholarship Deadline
Application start date – 30th March 2017
Application end date- 15th May 2017
Submission of application Form
All the supporting documents along with a print of application form must be submitted to below address
NUS Graduate School for Integrative Sciences and Engineering (NGS)
Centre for Life Science
28 Medical drive #05-01
Singapore-117456
For more updates on NGS NUS Scholarship 2017, stay tuned to our portal regularly. You can also check here India's Top Scholarship Exam Program
See also