IISER 2022: The IISER is the Indian Institute of Science Education and Research. The institute has its branches in Berhampur, Bhopal, Kolkata, Mohali, Pune, Thiruvananthapuram and Tirupati. All of the institutes are renowned for their Integrated Degree programs.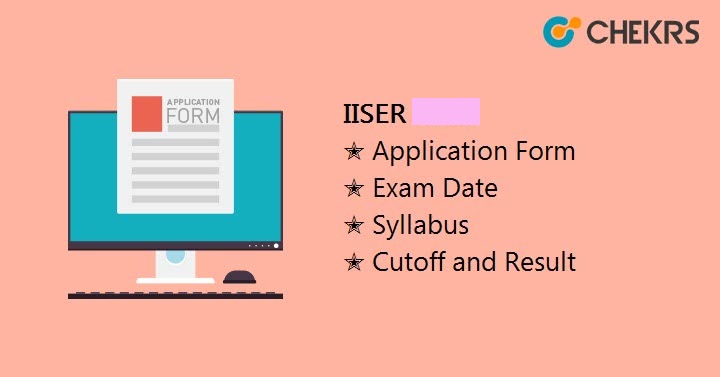 If you are interested to pursue any of the courses offered in the institute, find more helpful details here. Readout information on IISER Aptitude Test, its important dates, different eligibility conditions for admission, exam pattern, result, IISER Admission Cut Off and other important details.
IISER 2022 Admission
The admission in any of the institutes is done through the common process. The admission in the institute can be taken for integrated programs under Bachelors and Masters of Science/Engineering Sciences (BS-MS). The 5 year academic program enables students to pursue a career in academia, R&D institutes, and science-based industries.
With the admissions, irrespective of course opted IISER Scholarship is also granted to the students which are:
The KVPY qualifying students are given fellowship as per exam norms.
Students of JEE Advanced Channel are given INSPIRE scholarships (criteria depends).
Candidates admitted through SCB and Aptitude Test scholarships are awarded as per the DST INSPIRE scheme.
Interested candidates to get enroll for the choicest program and branch can opt for any of the three IISER Eligibility discussed below.
IISER 2022 Eligibility Criteria
The choicest course can be adopted by students only if they use/apply any of the listed approaches.
Mode
KVPY
JEE Advanced
SCB
Qualification
This is the Kishore Vaigyanik Protsahan Yojana conducted yearly and appreciates the talent by awarding scholarships. If aspirants have qualified the fellowship program can seek admissions here as well.
The Joint Entrance Exam is one of another medium through which willing students can avail the chance of admission. If the aspirant have managed to score within the ranks specified by the institute, (s)he can directly seek entry.

The SCB stands for State or Central Boards channel.

Those who have completed their 10+2 education with minimum required marks are eligible to participate in the admission process.

Cut off/ Marks

The eligibility of KVPY will be determined through cut off marks of the exam.

General: Within 10,000 in common ranks

Reserved (OBCNC, SC, ST, PD): Within 10,000 as per individual category rank

The range of minimum aggregate marks varies from 60%-93%.

Detailed list can be checked once released on website

Admission Granted
Direct
Through IISER Aptitude Test
The IISER Aptitude Test Eligibility will be updated soon, once the results of all boards are announced. Tentative cut off based on previous cut off will be as follows:
Board
Cut Off
Board
Cut Off
AMU Board
81.4
Jammu & Kashmir
86.2
Andhra Pradesh
94.8
Jharkhand
60.0
Assam
71.9
Karnataka
88.0
Bihar
70.0
Kerala
93.1
CBSE
88.3
Madhya Pradesh
85.2
Chattisgarh
74.1
Maharashtra
76.1
Goa
82.6
Manipur
79.0
Gujarat
60.2
Meghalaya
67.0
Haryana
85.5
Punjab
80.4
Himachal Pradesh
79.3
Rajasthan
76.9
ICSE
93.3
Tamil Nadu
95.1
Mizoram
63.8
Telangana
94.7
Nagaland
63.0
Tripura
60.0
Odisha
68.6
Uttarakhand
66.1
Uttar Pradesh
74.3
West Bengal
75.9
Visva-Bharati
83.1
IISER Entrance Exam 2022 Important Dates
As the admission to the institute can be taken through different mediums, one can easily know their important dates and IISER Entrance Exam Date through the list of events provided by us.
For KVPY:
Events
Dates (Tentative Dates)
Application Available from
May 2022
Application Ends on
June 2022 (Exact Dates announced later)
Result Announced
Submission of SAF begins
Last Date for submission
For JEE:
Events
Dates (Tentative Dates)
Application Available from
May 2022
Application Ends on
June Last Week 2022 (Exact Dates announced later)
Result Announced
Submission of SAF begins
Last Date for submission
For SCB:
Events
Dates (Tentative Dates)
Online Application Begins
May 2022
Application Last date
June 2022
Availability of hall ticket
June 2022
IISER SCB aptitude test
Result Declaration
Early July 2022
Submission of SAF
Last Date for submission of SAF
July 2022
IISER 2022 Application Form: How To Apply
To get enrolled in the institute, one will require filling up the application forms. Even though if someone is eligible, but haven't applied his/her admission will not be given if IISER Admission Form is not submitted.
Once the process begins, we will provide you the direct link to apply. The complete process can be easily processed using the given steps:
Open the link provided by us.
On the home page you will see apply now link.
Register on the website and proceed to fill the application form.
The application submission link will appear, enter the correct details in it.
Once, done submit the application fee using the online method.
Your application is submitted successfully.
Application Fee: IISER Applicants will have to pay IISER Application Fee of Rs 2000/- (General candidates), Rs 1000/- (Reserved).
IISER Exam Pattern
As the name suggests, it will be an aptitude test, so general questions will be included it exam from the science field. Well, the test will not be really easy, thus check out the IISER Entrance Exam Pattern to make preparation easier.
Mode: Offline
Language: Questions available in English & Hindi
Marking Scheme: For each correct answer, 3 marks will be allotted while for wrong 1 mark will be deducted.
Subjects
Questions
Marks
Time
Biology
15 questions for each subject
3 marks for each question
3 hours
Chemistry
Physics
Mathematics
Total
60
180
IISER 2022 Syllabus
The syllabus is a boon for all those who want that they don't miss chance to get admitted. The IISER Aptitude Test Syllabus with important topics will be provided by us in detail so that learning will be precise.
For all the subjects syllabus will cover details of must study sections.
IISER Admit Card
Te admit card is mandatory for all as it is a national level examination, it is crucial to know details your test center and other exam information.
The IISER Aptitude Test Admit Card will be allotted online a few days before the exam which can be downloaded easily by us.
IISER Exam Preparation 2022
We are sharing some of awesome and for sure result oriented tips and tricks to help you get best outcome of your hard work.
Follow the NCERT as basic is often asked.
Download and solve the IISER Aptitude Test Previous Year Papers provided by us on a regular basis to increase knowledge of questioning patterns.
Refer to best IISER Aptitude Test Preparation Books. We will provide you a few in the detailed article.
Don't neglect your weaker section/subjects.
Official Website: IISER 2022