How To Crack EAMCET 2022 Medical/ Engineering: The EAMCET stands for Engineering and Medicine Common Entrance Test.
More Articles of EAMCET: AP EAMCET 2022  | TS EAMCET 2022
This test is taken up by the students who are willing to get enrolled in the professional courses offered by the prestigious educational institutions of Andhra Pradesh. It is a very important state level test for all of the students looking for engineering and medical education from the university.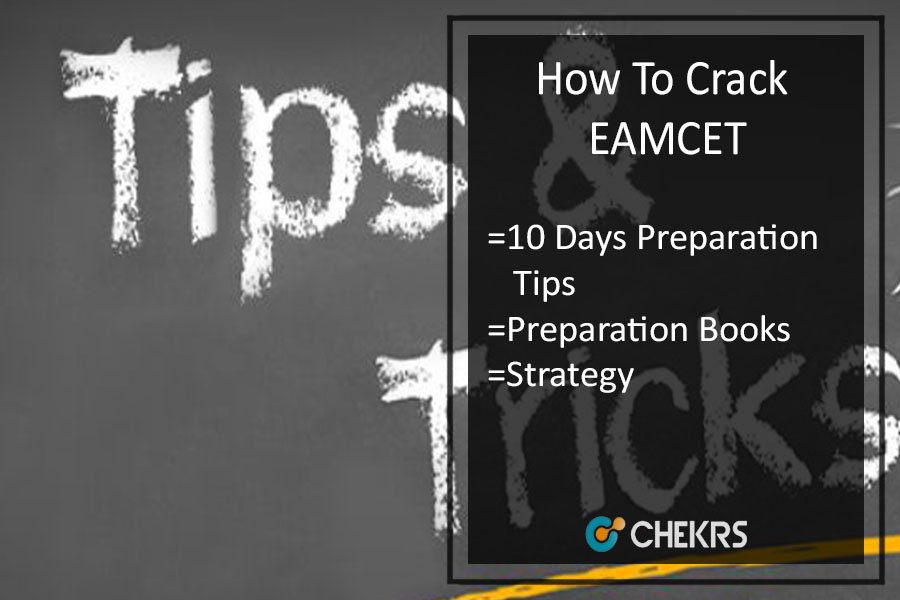 The students who are looking forward to participating in this competition can find this article very helpful. Here we have mentioned very useful Tips for EAMCET for all the aspirants of the exam to prepare them within 10 days.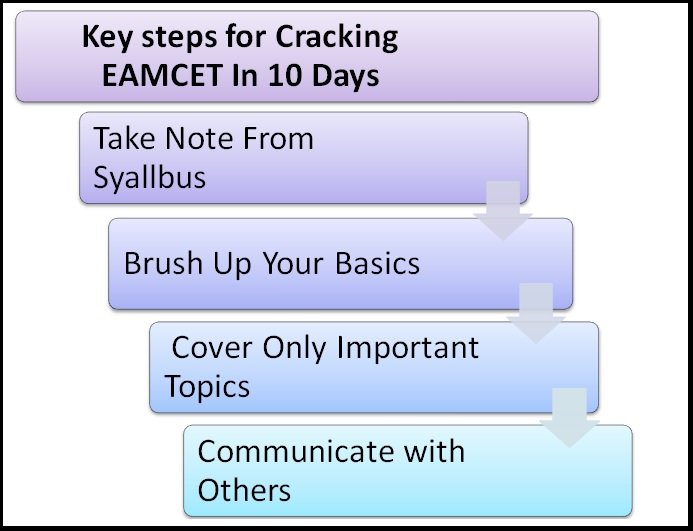 How To Crack EAMCET 2022 in 10 Days
Brush Up Basics
It is a very important part for gearing up any of the preparations. This step helps the aspirants to recall all the basics they have studied so far. Most of the entrance test exams comprise of simple questions which either require their direct application or a combination of answers. These Preparation Tips for EAMCET are very helpful while attempting the multiple choice questions because precise and direct answers are mentioned.
Focus Important Topics
When you are preparing yourself to fight a competition within 10 days, focus plays a very vital part. Refer to the previous year papers to evaluate what have been the important topics according to your course and try to learn every aspect of them. Tips for Cracking EAMCET are that don't wander on any of the topics which are asked rarely. Though you may not be able to answer them, it is important to know that probability always wins. Hence apply the probation method to score well.
Refer Syllabus
In the learning process of last few days, most of the candidates do mistake by not referring to the syllabus. Every exam has its own different course. Even all the engineering exams don't cover same topics. Hence going through the syllabus will help you to know How to Prepare for EAMCET which topics need to be drop out and which are important.
Revise
The last days are not for reading as much as you can. Rather try to learn whatever you are reading. Proper focus even on fewer topics can help you get marks. If you are studying for 10 hours a day, try to save one hour for revising the previous day's topics.
Practice Numeric Daily
The questions for Math, Physics and other solving aptitudes are not easy that can be done just in a day. Learn at least 10 new concepts every day and practice their solutions is the best effective EAMCET Preparation Tips for Engineering. Investing time in this exercise daily will only help you to perform well in the exam on the 11th day.
Use Guesses
While you are preparing for a big exam in 10 days reading plays a very important part in answering multiple choice questions. The best part about this examination is no negative marking. Hence even a small recalling from the topic can provide you one mark which can increase your overall grades in the competition.
Involve in Communication
How to Crack EAMCET in 10 Days is a big question for all. Well, you are not ready for the exam, seeking out help from others can really save your time a lot. Discuss the strategies, short cut tricks, and topics from your friends pursuing coaching or the students who have given exam previously.