DASA PG Counselling 2017(डायरेक्ट एडमिशन फॉर स्टूडेंट्स अब्रॉड पोस्ट ग्रेजुएशन काउंसलिंग ) will be conducted by Visvesvaraya National Institute of Technology (VNIT) Nagpur tentatively in the month of June 2017. DASA admission 2017 is conducted to offer admission into various Post graduation Programs such as M.Tech/M.Plan/M.Arch/M.Des/MURP and MBA offered by IIEST, NITs, SPAs, IITs and other centrally funded and premium technical institution. Eligible candidates will be alloted their seat on the basis of merit list which will be prepared as per the GRE scores of candidates.To appear in DASA PG Counselling Schedule, applicants must feel the online application form and at the same time submit their GRE scores to VNIT Nagpur. There are a subsequent number of steps involved in DASA PG Counselling Procedure such as registration, choice filling, document verification etc. In regards to more details, go through the article and get complete details.
Through Direct Admission of Students Abroad scheme, candidates belonging to foreign nationals, persons of Indian origin, overseas citizens of Indian-residential trial Indian, and the students who are studying abroad will be eligible for the admission to the Postgraduate courses offered by NITs, IIITs, SPAs and other technical institutes.
See also
DASA PG Counselling 2017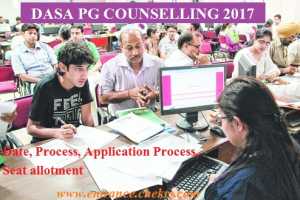 The DASA PG Counselling will be conducted in two rounds and the applicants will be provided their seat on the basis of merit list. To appear for the counselling process, the candidates must fill and submit the DASA Application Form 2017, which will be available from 1st April to 12th June 2017. The candidates who will be registered successfully will be allowed to appear the subsequent rounds of counselling. Applicants must also fulfill certain eligibility criteria.
Eligibility Criteria
Candidates must have passed UG programme in Engineering/Technology or any equivalent degree in relevant discipline from a recognized institute under the Association of Indian Universities/AICTE/UGC/other statutory bodies as applicable.
Candidates must have secured a minimum aggregate 60% marks or 6.50 CGPA on a 10 point scale or equivalent in the qualifying examination.
Candidates must have a valid GRE Scpre of 300 (Verbal + Quantitative) taken on or after August 01, 2012)
DASA PG Application Form 2017
Candidates applying for DASA PG Admission must fill the online application form by entering the complete details. Check below the steps to fill the online application form.
Candidate must register by creating a username, email id and then submit it
Registration must be verified by clicking on the link mailed to them
Enter all the personal details including address for communication
Upload all the scanned documents along with photograph and signature
Candidates must make payment of the registration fees and first semester fees online as specified.
Fee details
Candidates except from SAARC countries- US$ 2,300
Candidates from SAARC countries- US$ 1,300
DASA PG Counselling Schedule 2017
Aspirants to keep track of the DASA PG Counselling dates inorder to have complete information about the deadlines
Events
Start Date
End Date
DASA PG application  available
April 19, 2017
June 22, 2017
Last date for acceptance of GMAT/ GRE General Test Score
                            29TH June 2017
Allocation of seats to candidates in the first round.
                            3rd July 2017
Acceptance of allocated seats to the candidates in the 1st round
July 3rd 2017
July 10th 2017
Allocation of seats in the 2nd round
                             12TH July 2017
Consent by candidates for seat allotted to them in the 2nd  round
12th July 2017
17th July 2017
Reporting of candidate
19th July 2017
24th July 2017
DASA PG Counselling Procedure 2017
Check below the steps of DASA Counselling Process
Counselling process is going to be conducted in two rounds according to candidates' rank in the merit list prepared by the authority.
The Merit list of candidates will be prepared on the basis of GRE score as received by MNIT from ETS/GMAC.
Seat allotment will be made through GRE test score of the candidates and preferences given by them.
Candidates can apply for up gradation of the course and the institute.
Once the seat has been allotted to the candidates, they need to download the provisional allotment letter.
Candidates must sign-in on hard copy of the allotment letter before they submit it to the allotted institution.
Applicants must go through document verification procedure further, where they need to submit their original document as specified by the institution.
Candidates from foreign nationals must present a valid student visa issued by the Indian Missions abroad. They can get the visa by producing the Provisional Admission offer letter and other required documents. Applicants are responsible for getting an appropriate visa so that they get admission under DASA PG 2017.
Document required for verification
X, XII Marksheet
Self-attested mark sheet of the qualifying examination
An authenticated translated copy of the document written in any other language other than English or Hindi.
Applicant's Passport- The candidates of Nepal can also submit the authenticated citizenship card incase they don't have passport
Proof of date of birth
DASA PG 2017 Participating institutes
National Institute of Technology, Warangal
National Institute of Technology, Tiruchirappalli
National Institute of Technology, Surathkal
National Institute of Technology, Calicut
Motilal Nehru National Institute of Technology, Allahabad
Indian Institute of Engineering Science and Technology, Shibpur
Visvesvaraya National Institute of Technology, Nagpur
Sardar Vallabhbhai National Institute of Technology, Surat
Sant Longowal Institute of Engineering and Technology, Longowal
National Institute of Technology, Rourkela
DASA PG Seat Allotment Results
DASA PG Seat matrix will be based on the candidates GMAT/GRE score and as per the preferences given by them. After the counselling process, applicants will be provided their respect seats through DASA Seat Allotment process.After completion of the seat allotment, candidates must send their confirmation regarding acceptance of seat. In case any candidate fails to do so then his.her seat will be cancelled.
For more updates on DASA Counselling 2017, stay tuned to our portal. Here you can also check the details of India's Top Engineering Colleges and incase of any query place your valuable comments in the commenting section below.
See also