CMRUAT Syllabus 2018
CMRUAT Syllabus 2018: The CMR University Admission Test (CMRUAT) is an entrance level exam after the class 12th. There is no fixed syllabus for it. In most the cases the question is asked from the syllabus of class 12th. So candidate can prepare for the CMRUAT by their respective syllabus. The subjects which will come in most of the cases are Physics, Chemistry, and Mathematics. For the detailed of each part, we provided below the CMRUAT Syllabus.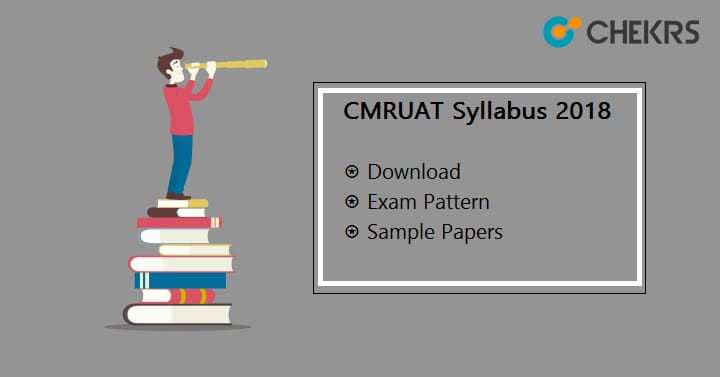 CMRUAT Syllabus 2018 B.Tech
CMRUAT conducts the exam for the B.Tech and the MBA courses. Candidates who want to take the admission in the CMRUAT colleges of B.Tech branch have to prepare well. So we provided here CMRUAT Syllabus for B.Tech.
CMRUAT Syllabus B.Tech.
Subject
Topics
Physics

Current electricity
Electromagnetic waves
Thermodynamics
Laws of motions
Rotational motion
Gravitations
Oscillation and waves
Dual nature of matter and radiation
Kinetic theory of gases
kinematics
Optics
Electronic device
Properties of solids and liquids
Communication system
Atoms and Nuclei
Electromagnetic induction and alternating current
Electrostatics
Physics and measurement
Magnetic effect of current
Work, power and energy

Chemistry

Hydrogen
Basic concepts of chemistry
Polymer
Atomic structure
Chemistry in Everyday life
p-block element
s-block element
surface chemistry
d and f- block element
classification of elements
redox reaction
 electrochemistry
chemical Kinetics
coordination compound
biomolecules
solutions
organic compound containing Nitrogen
chemical bonding and molecular structure
thermodynamics
organic chemistry
surface chemistry
hydrocarbon
organic compound containing Halogen
organic compound containing Oxygen
equilibrium
environmental Chemistry
purification and characterization  of organic compounds

Maths

Sets
Relation and functions
Integral calculus
Vector algebra
Matrices and determinants
Trigonometry
Differential equation
Complex number
Quadratic equation
Mathematical reasoning
Sequence and series
Binomial Theorem
Limit ,continuity and differentiability
Statistics and probability
Mathematical Induction
3-D geometry
Coordinate geometry
Permutation and combination
CMRUAT Syllabus 2018 MBA Courses
CMRUAT also conducts the exam for the MBA courses. Candidates who want to take the admission in the CMRUAT colleges of MBA branch have to prepare well. So we provided here CMRUAT Syllabus for MBA.
CMRUAT Syllabus MBA Courses
Subject
Topics
English

Sentence arrangement
Transformation
Antonyms
Synonyms
Idioms and phrases
Active and passive voice
Spotting errors
Joining sentence
Substitution
Sentence Improvement
Passage completion
Para completion
Spelling test
Completion
Prepositions
General English
Sentence
Fill in the blanks
Error correction(underline/ phrases in bold)

Aptitude

Quadratic equation
Numbers and ages
Problems on trains
Problems on H.C.F and L.C.M
Boats and stream
Indices and surd
Pipes and cistern
Simple Interest
Races and games
Compound Interest
Percentages
Permutation and combination
Ratio and proportion
Areas
Averages
Problems on number
Profit and loss
Volumes
Time and work
Partnership
Simplification and approximation
Odd man out
Time and distance
Mixture and allegation
Simple equation
Mensuration
Probability

Reasoning

Data sufficiency
Data Interpretation
Logical reasoning
Alpha numeric symbol and series
Puzzles and seating arrangements
Analytical reasoning
Series
Coding and decoding
Verbal reasoning
Syllogism
Blood relation
Order and ranking
CMRUAT Exam Pattern 2018
CMRUAT is the private university, so its pattern of the exam is designed by the university itself. We provided here some points which help the candidate to understand the CMRUAT Exam Pattern:
The question paper is set in the objective mode
This is an online test which is conducted on the computer at every examination center.
The question is based on class 12th PCM syllabus.
The pattern of the question paper varies with the course.
For the BE/B. Tech exam one of the paper consists of MCQs type.
CMRUAT Previous/ Sample Papers
The previous year paper helps the candidate to know the exam pattern and the type of the question comes in the exam. By solving the previous year question paper candidates not only get the accuracy of solving the question but also the get the idea how to solve them in less amount of time. Candidates who want to see the previous year paper can download from the official website
Official Website: CMRUAT Syllabus