CG PET Syllabus 2023 Pdf Download: Chhattisgarh Professional Examination Board (CPEB) will organize a state-level engineering entrance exam i.e. Chhattisgarh Pre-Engineering Test (CG PET) for candidates seeking admission into various streams of engineering courses. It is necessary to study for the exam if you want your selection. For this, you should first gather all the exam stuff like Syllabus, CG PET Previous Year Question Papers, books, notes etc and then start preparing.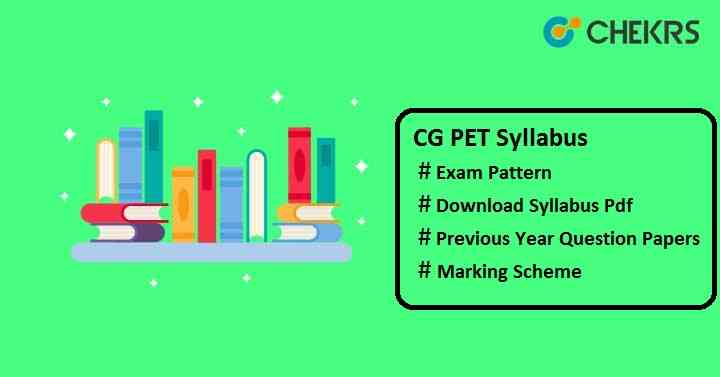 Here we have listed CG PET Syllabus with topic names in the table below. You can refer them and start your preparation accordingly as only a few months are left in the examination.
CG PET Exam Syllabus 2023 (Subject Wise)
Subjects
Topics
Physics

Measurement
Force & Laws of Motion
Kinematics
Rotational Motion & Moment of Inertia
Work, Energy & Power
Gravitation
Properties of Solid & Fluids
Oscillation
Waves
Light
Magnetism
Electrostatics
Current Electricity
Heat & Thermodynamics
Effect of Electric Current
Electron, Photon & Radio Activity
Electromagnetic Induction & Alternating Current

Chemistry
Physical Chemistry

Atomic Structure
Solutions
Solid State
Chemical Bond
Nuclear Chemistry
Chemical Equilibrium
Thermo Chemistry & Thermodynamics
Ionic Equilibrium
Chemical Kinetics
Electro chemistry
Surface Chemistry

Inorganic Chemistry

Principles of Metallurgical Operations
Chemical Periodicity
Comparative Study of Elements
Transitions Metals
Co-Ordination Compound
Chemical Analysis

Organic Chemistry

Biomolecules
Organic Compounds Based on Functional Group Containing Nitrogen
Chemistry in Daily Life
Organic Compounds Containing Organic Oxygen
Chemistry of Hydro Carbon

Mathematics

Algebra
Trigonometry
Co-Ordinate Geometry of Two Dimensions
Integral Calculus
Co-ordinate Geometry of Three Dimensions
Differential Calculus
Vector Algebra
Statistics
Numerical Methods
Differential Equations
Information Technology
Candidates can also check the official CG Vyapam PET Syllabus pdf. To see the complete syllabus prescribed by CPEB, Click here
CG PET 2023 Exam Pattern
Candidates are advised to check the CG PET Exam Pattern & marking scheme below so that they can get a rough idea of the original CG PET exam question papers. Candidates can make their study plan according to the syllabus and exam pattern prescribed by the officials.
There is no negative marking so students can choose any choice even though they are not sure about the answer. Each subject will be of equal marks.
Mode of Examination
Offline (Pen-paper based )
Time Duration
3 hours
Question Type
Multiple Choice Questions
Paper Language
English, Hindi
Total Questions
150
Total Marks
150
Question Pattern
Sections
No of Questions
Marks per Question
Marks
Physics
50
1
50
Chemistry
50
50
Mathematics/ Biology
50
50
Marking Scheme
No deduction in marks
CG PET Question Papers 2023
Applicants always want to know what to study, what not to study, which topics are more important, which topic carries more marks, what type of questions will be asked etc. To clear these doubts you should check the CG PET Previous Year Question Papers.
To score the highest marks in the exam, you should go through the last year's papers, solve them and focus on your weak points.  It is best to solve a CG PET Sample Paper on a regular basis if you want to secure a good rank in the entrance exam; it also increases your confidence level.
Few months left in the examination. Those who have completed the exam syllabus should practice at least one mock test daily to improve your performance. Daily practicing of the previous year papers will take you one step closer to your goal.
If you have any doubts regarding the CG PET 2023 Syllabus along with the exam pattern and question papers, you can ask in the comment box below.
Official Website: CG PET Syllabus 2023 Pdf Download