AP PolyCET Syllabus 2023: Candidates seeking admission into all Diploma Courses in the field of Engineering / Non Engineering or Technology offered at various Polytechnics institutions in Andhra Pradesh State can apply for AP PolyCET 2023.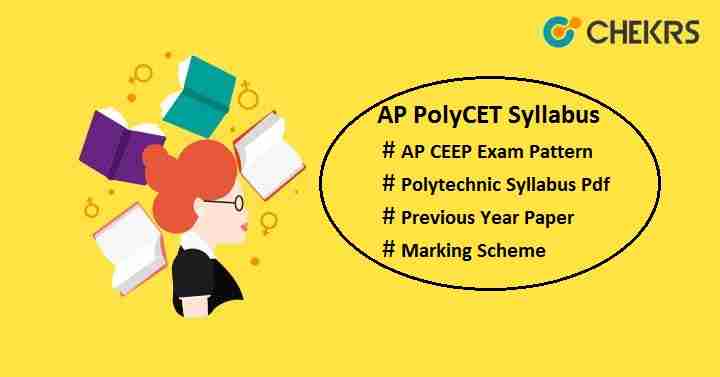 Before preparing for the polytechnic entrance exam, students should know the syllabus thoroughly decided by the SBTET (State Board of Technical Education and training), AP. If you are in search of the AP Polytechnic Entrance Exam Syllabus, then you are in the right place. Here we have provided the subjects-wise syllabus.
AP PolyCET 2023 Syllabus
Subjects
Topics
Physics

Units and dimensions
Work, Power, and Energy
Elements of vectors
Heat and Thermodynamics
Kinematics and Friction
Simple harmonic motion and acoustics
Reflection of Light
Refraction of Light at Plane Surface
Refraction of Light at Curved Surface
Modern Physics.

Chemistry

Atomic Structure
Chemical Bonding
Water Technology
Solutions
Fuels
Electro-Chemistry
Acids and Bases
Corrosion
Polymers
Environmental chemistry.

Mathematics

Number System
Real Numbers
Linear Equations
Polynomials
Algebra
Quadratic Equations
Trigonometry
Progressions
Sets
Geometry
Coordinate Geometry
Surface Areas & Volume
Mensuration
Statistics
Mathematical Modeling
Probability
Candidates can get free AP PolyCET Syllabus Pdf published by the SBTET, AP here.
AP PolyCET 2023 Exam Pattern
The AP PolyCET Exam Syllabus is based on class 10 subjects like Physics, Chemistry & mathematics. Those who have completed the exam syllabus, take a look at the AP PolyCET Exam Pattern to know about the exam and paper pattern.
Mode of Examination
Offline
Paper Language
English
Time Duration
2hours
Sections
3
Question Type
Multiple Choice Questions
Question Pattern
Subjects
No of Questions
Marks per Question
Marks
Physics
30
1
30
Chemistry
30
1
30
Mathematics
60
1
60
Total Marks
120
Marking Scheme
No Negative Marks
AP Polycet (CEEP) Previous Year Paper
Students must check the previous year's paper to get the exact idea about the AP PolyCET Question Paper. To get through AP Polytechnic Common Entrance Test (AP PolyCET), it is necessary to clear the entrance test. So to perform well in exam, one must practice AP PolyCET Previous Year Paper. To download the free AP Polycet (CEEP) Paper, Click Here. Solving last year's paper helps us to improve our level of confidence, overcome the fear of exam, increase speed & accuracy, and improve time management skills.
Hope the contents in this article are sufficient for all the candidates who were searching the AP Polytechnic Exam Syllabus along with the exam pattern and also the previous year paper of AP PolyCET.
Best of Luck!!!
Official Website: AP PolyCET Syllabus 2023