AIIMS Syllabus 2019: All India Institute of Medical Sciences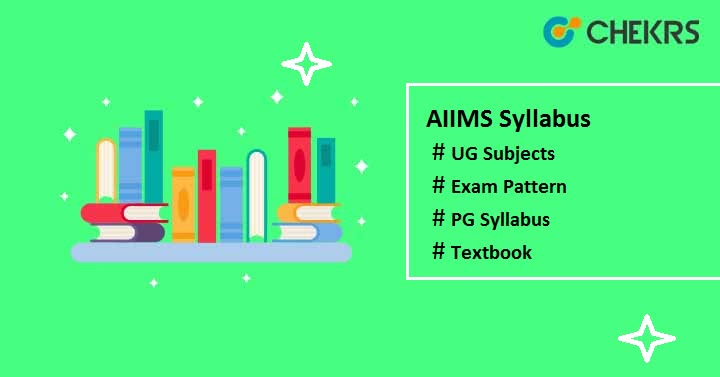 (AIIMS), Delhi has released the online registration date for postgraduate courses such as MD/ MS/ MDS/ DM/ M.Ch. AIIMS PG 2019 is a gateway through which you can take admission in AIIMS. So get ready to crack the exam with highest marks. First, you need to collect the exam stuff either from experts, online site, official portal or any other sources.
Here we have provided the AIIMS 2019 Exam Syllabus along with the AIIMS Entrance Exam Pattern to help you so that you can perform in a better way.
Candidates need to focus on every topic to score well in marks in the exam, so prepare yourself according to the topics listed in the table below.
AIIMS Syllabus 2019
AIIMS UG Syllabus
Subjects
Syllabus
No of Questions
Physics

Physical world and measurement
Kinematics
Laws of Motion
Work, Energy and Power
Motion of System of Particles and Rigid Body
Gravitation
Optics
Properties of Bulk Matter
Dual Nature of Matter and Radiation
Heat and Thermodynamics
Atoms and Nuclei
Behaviour of Perfect Gas and Kinetic Theory
Electronic Devices
Oscillations and Waves
Modern Physics

60
Chemistry

Some basic concepts of chemistry
Structure of atom
Classification of Elements and Periodicity in Properties
Chemical Bonding and Molecular Structure
States of Matter- Gases and Liquids
Thermodynamics
Equilibrium
Redox reactions
Hydrogen
s-block elements
Some p-block elements
Organic Chemistry – Some basic principles & Techniques
Hydrocarbons
Environmental chemistry
Solid state
Solutions
Electrochemistry
Chemical Kinetics
Surface chemistry
General Principles and Processes of Isolation of Elements
p-block elements
d and f block elements
Co-ordination compounds
Haloalkanes and Haloarenes
Alcohols, Phenols and Ethers
Aldehydes, Ketones, and Carboxylic acids
Biomolecules and Polymers
Organic Compounds Containing Nitrogen
Chemistry in Everyday life

60
Biology

Diversity in the living world
Reproduction
Cell structure and function
Structural Organization in Animals and Plants
Genetics and evolution
Plant physiology
Biology and Human Welfare
Human physiology
Biomoleclues
Biotechnology and its Application
Ecology and Environment
Biodiversity and Conservation

60
General Knowledge

and Aptitude & Logical Thinking

Social issues
World Records
Books, and authors
Science
History
Geography
International organizations Business
Sports
Finance
Entertainment, Films
Politics etc
Coding and Decoding
Venn Diagrams
Mirror Images
Odd One Out
Clock Concepts
Analogy
Blood Relations

20
AIIMS PG Syllabus
Candidates need to go through the syllabus of MBBS or BDS, if you will apply for AIIMS PG because the AIIMS MD/MS Syllabus is common to MBBS syllabus and MDS Syllabus is similar to BDS syllabus. Now if you have completed the syllabus, then you need to download the Previous Year Paper and practice it.
Course
Syllabus
MD/ MS

Anaesthesiology              Anatomy
Radio-Diagnosis                Radiotherapy
Biochemistry
Community Medicine
Pediatrics
Pharmacology
Physical Medicine & Rehabilitation (PMR)
Physiology
Biophysics
Dermatology and Venereology
Microbiology
Nuclear Medicine
Forensic Medicine and Toxicology
Medicine
Obstetrics & Gynaecology
Ophthalmology
Pathology
Psychiatry

Master of Dental Surgery (MDS)

Orthodontics
Conservative Dentistry and Endodontics
Prosthodontics
AIIMS 2019 Exam Pattern
It is very important to know the Exam Pattern when we are going to appear for any exam. The exam pattern will be decided by AIIMS, New Delhi. It will help you to know the pattern of paper also.
Here we have provided the AIIMS Exam Pattern for both UG & PG courses, candidates can check according to their respective course.
AIIMS MBBS/ BDS Exam Pattern
| | |
| --- | --- |
| Mode of Exam | Online (computer-based test) |
| Paper Language | English & Hindi |
| Duration of Exam | 3 hours 30 minutes |
| Type of Questions | Multiple Choice Questions |
| No of Sections | 3 |
| Total Questions | 200 |
| Total Marks | 200 |
| Marking Scheme | 1 marks for each correct response. -1/3 negative marking |
PG Exam Pattern
For MDS/DM/M.Ch./MD (Hospital Administration), 90 questions will be asked and total time duration will be 90 minutes. The question paper of MD/ MS programmes contain questions from MBBS syllabus and for MDS, questions will be comes from the syllabus of BDS course level
| | |
| --- | --- |
| Mode of Exam | Online (computer-based test) |
| Paper Language | English |
| Duration of Exam | 180 minutes |
| Type of Questions | Multiple Choice Questions |
| Total Questions | 200 (MD/ MS) |
| Total Marks | 200 |
| Marking Scheme | 1 marks for each correct response. -1/3 negative marking |
Official Website: AIIMS Syllabus 2019