VTUEEE Syllabus 2024: Vel Tech University organizes an entrance exam i.e. VTUEEE (Vel Tech University Engineering Entrance Exam) for admission to undergraduate BTech programme. Are you thinking to appear in this exam?? If so, then here we have brought you VTUEEE Syllabus along with the VTUEEE Exam Pattern. The first step towards any exam preparation is to know the exam syllabus thoroughly.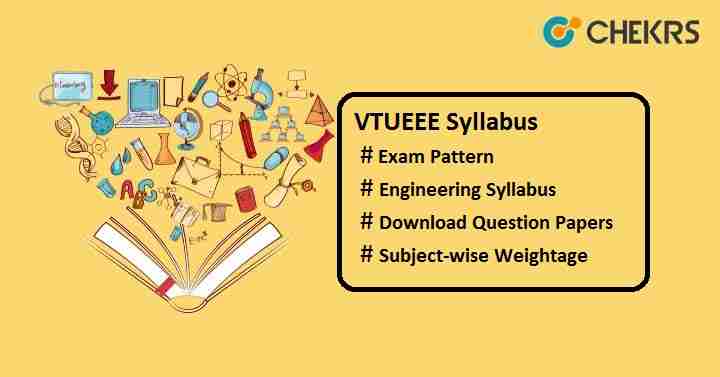 In this article, we are providing VTUEEE Subject-wise Topics so that students can know what to study, which topic is more important for exam purpose etc. Check the listed topics in the table given below and prepare accordingly to perform well in the exam.
VTUEEE Syllabus 2024 (Subject Wise)
Subjects
Topics
Physics

Mechanics,
Properties of Matter,
Heat and Thermodynamics,
Optics,
Electricity,
Magnetism,
Atomic Physics,
Nuclear Physics,
Electronic Devices,
Laser and Optic Fiber

Chemistry

Some Basic Concepts in Chemistry,
S Block, P Block, d block, f block elements,
Coordination Chemistry and Solid State Chemistry, Thermodynamics,
Chemical Equilibrium and Chemical Kinetics,
Redox Reactions and Electrochemistry,
Purification and Characterization of Organic Compounds,
Some Basic Principles of Organic Chemistry,
Hydrocarbons,
Organic Compounds Containing Halogen
Organic Compounds Containing Oxygen,
Bio molecules,
Polymers

Mathematics

Partial Fractions,
Complex Numbers,
Quadratic Equations,
Matrices and Determinants,
Trigonometry,
Permutations and Combinations,
Binomial theorem for a positive Integral Index,
Two dimensional coordinate geometry,
Three dimensional geometry,
Vector Algebra,
Limit, continuity and Differentiability
Integration,
Ordinary differential equations,
Set theory & probability
VTUEEE 2024 Exam Pattern
The examination controller of VTUEEE 2024 will decide the VTUEEE Exam Pattern. This test will be held in both offline as well as online mode. Candidates can give exams in either online or offline mode as per their choice.  It is very important to know the exam pattern before the exam to clarify whatever doubts you may have regarding the question paper and appear in the exam confidently.
Mode of Examination
Offline & Online
Time Duration
2 hours 30 minutes
Question Type
Multiple Choice Questions
Paper Language
English
Total Questions
100
Total Marks
100
Question Pattern
Sections
No of Questions
Marks per Question
Marks
Physics
25
1
25
Chemistry
25
25
Mathematics
50
50
Marking Scheme
No Negative Marking
VTUEEE Question Papers
After completing the VTUEEE Exam Syllabus along with the exam pattern, candidates should start solving previous year papers. It will help to boost up the confidence level. Candidates can get a rough overview of the original question paper from the VTUEEE Last Year Paper's. Candidates will be able to know what type of questions have been asked on each subject in the last few years, what to study and what not to study during preparation.
As you know a few months left in the examination, but it's still not too late. Candidates are advised to start your exam preparation by practicing VTU BTech Entrance Exam Question Papers from today if you want your selection for sure. Gather all exam stuff and start preparing.
For any query, we are here to help you. Drop your query related to VTUEEE 2024 in the given below comment section. We will respond to you very soon. Keep visiting this site to get the latest updates. Good Luck!!!
Official Website: VTUEEE Syllabus 2024.