Student Education Loan Interest Rate 2019-20: To build a successful career it is very important for every student to adopt the method of quality education. Today education in all the premier institutes of our country is turning out to be quite expensive, thus sometimes even the meritorious candidates fail to take admission due to financial constraint.
Therefore under such circumstances, students can opt for Student Education Loan in India which are offered by various banks for higher education. The banks offer education loans for various courses such as graduation courses, PG courses, Professional courses, EMI Calculator etc. Apart from this, the interest rates offered by each bank are also different. You can, therefore, get here  Education Loan Interest Rate SBI 2019 along with interest rates of other banks. To receive more precise information in terms of Education Loan Interest Rate HDFC and other related details, check the article below.
See also: Scholarship Exam || Engineering UG Exams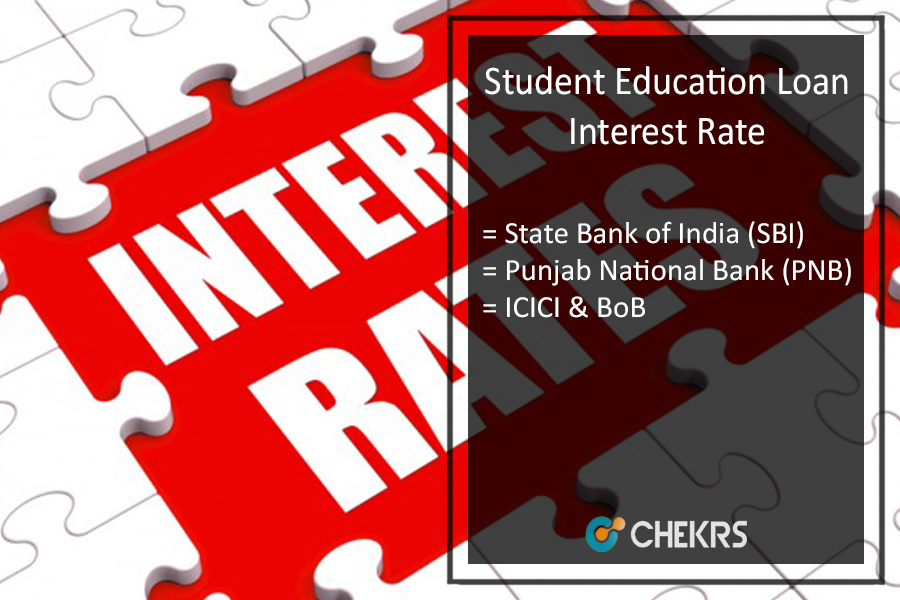 Education Loan Interest Rate 2019
Below we have provided the details of Education Loan Interest Rate as per various banks. Thus candidates opting for education loan can get complete details below.
| | |
| --- | --- |
| Bank | Current ROI |
| Union Bank Of India | 11.15% (Fixed (For Girls), 11.65% (For Boys)) |
| IDBI Bank | 9.75% – 13.25% |
| Bank Of Baroda | 11.40% |
| Bank of India | 12.20% |
| Dena Bank | 11.25% |
| Axis Bank | 16.10% (For Girls), 16.70%(For Boys) |
| State Bank of India | 9.35% – 10.60% |
| Syndicate Bank | 10.20% – 11.95% |
| Canara Bank | 11.10% – 11.30% |
| Vijaya Bank | 11.90% – 12.10% |
| Indian Overseas Bank | 10.20% |
Education Loan Benefits
It is applicable to all student including the backward sections of the society, who can apply for such loans under the government-sponsored subsidy schemes such as 'Central Scheme to provide Interest Subsidy' (CSIS).
It is applicable for all courses such as graduation, post-graduation, diploma courses, vocational courses
Education loans are easily available
Under the education loan scheme, varied loan amounts are provided.
It includes additional benefits such as caution deposits, library fees, building deposits, laboratory fees, tuition, examination fees, hostel fee etc.
Female students are offered the loans in lower interest rates.
The amount of loan need not be repaid immediately, and the tenure can extend up to 5 to 7 years after the completion of the course.
For more updates stay tuned to our portal. In regards to any query place your comments below.
See also
Student Education Loan Interest Rate 2019
The course of education in India is between 5 lakhs and 12 lakhs for UG engineering courses. In the case of medical courses, the fee of private colleges may rise upto 50 lakhs and the management colleges even include the fee of more than Rs 10 lakh. The interest rates of education loan vary as per different banks. Therefore applicants can now check here Student Education Loan Interest Rate 2019 and get to know about the education loan rates comparison with various banks for studying in Top Engineering Colleges. However, with the increasing of college fee every year, it has become difficult for students to pursue a quality education. Therefore students can now get here information of ICICI Education Loan Interest Rate along with the rate of interest of other banks.
Interest Rate on Education Loan- SBI, PNB, ICICI, Bank of Baroda
The Government of India has framed a Comprehensive Educational Loan Scheme in consultation with Reserve Bank of India (RBI) and Indian Banker's Association (IBA). The scheme covers various types of courses in schools and colleges in India and abroad. In India, Interest Rate For Education Loan is different as per banks. However, it is somewhere between 12.00 % and 16.00 %, which is depended upon the bank's base lending rate and other factors, where the base lending rate for Indian banks is around 9- 10%. as directed by RBI. Students can, therefore, get here Education Loan PNB Interest Rate. With the progress of time, things look better now with the Reserve Bank of India announcing welfare measures, where disbursal loans are offered to meritorious and deserving students. Thus you can check here Interest Rate on Education Loan in Bank Of Baroda and all other banks of India.