SBI Youth Fellowship 2022 Application Form- The State Bank of India organises SBI Youth for India Fellowship Program for the outstanding young minds and graduates who are willing to participate in the fight against poverty and for the development of India through the conductance of State Bank of India Youth for India Fellowship 2022. The State bank of India in association with many respective NGOs to improve the state of the rural communities for their betterment.
Latest Update: Applications for the 2022-23 batch of SBI Youth for India fellowship are now open.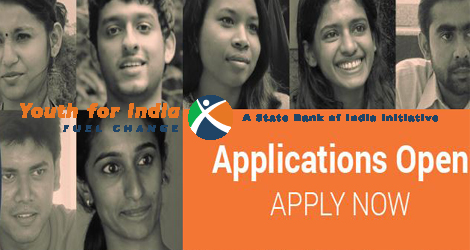 SBI Youth for India Fellowship 2022 Apply Online
The SBI Youth Fellowship has been started and managed by the authority of state bank of India. Any graduate candidate with the inspiration of helping such locality can participate in SBI Youth Fellowship. The project would be for 13 months of duration. The State bank of India youth for India fellowship Notification has been released on the official website. All the desiring and eligible candidates can check SBI Youth for India Fellowship Eligibility. Whosoever will be selected will get SBI Youth for India Fellowship Rewards as mentioned below.
SBI Youth for India Fellowship Application Form
The SBI Youth for India Fellowship Application form should be filled to appear in the scholarship program. We are providing you with the direct link through which you can fill the form and apply for this fellowship opportunity. Candidates are able to submit the application form through the online mode only.
SBI Youth for India Fellowship Application Form
Eligibility Criteria
The applicant must have completed his/ her graduation degree or young professional/ fresh graduate candidate.
Indian citizen/ OCI
 The applying candidate's age must be between 21 years to 32 years (as on date of commencement of program).
SBI Youth for India Fellowship| How to Apply
At the initial stage, the applicants would require to visit the official website i.e. youthforindia.org.
At the taskbar, there is application section available. Click on it.
Then click on the  Apply Now button.
Enter all the details correctly and submit it.
Later, on the basis of the application form records, they will be called for interaction or interview process. At last total, 100 candidates will be selected.
Note: The application form should be filled within 7 days of registration, else the form will be suspended. Second, a time stamp of 60 minute is provided to feed responses to all the 3 essays questions.
Screening/ Shortlisting
Shortlisted candidates are notified on an ongoing basis during the application period and then they are called for the interview rounds held across major cities in India.
Final Selection
Those candidates who selected post interview will be notified via e-mail or SMS.
On conformation, candidate will be sent the offer letter specifying details of the programme, fellowship support and terms and condition of the fellowship.
Candidate will also have access to further material about the programme areas of SBI partner NGOs. This will help candidates to decide upon preferred NGOs.
State Bank of India Youth Fellowship Dates
| | |
| --- | --- |
| Name of the  events | Date |
| Last date of submission of application form | May 2022 |
| Personal Interview/ Intimation Process | First week of June 2022 |
| Selection Process | July 2022 |
| Candidates join August 2022 Cohort | August 2022 |
| Candidates join October 2022 Cohort | 2nd October |
SBI Youth for India Fellowship Rewards
whosoever will be selected in the end they will get the living allowance, local travel allowance, travel expenses, medical insurance, readjustment allowance, and some other supports also as per  SBI Youth for India Fellowship Reward.
Stipend: Rs 15,000/- to meet living expenses
Local Transport Allowance: Rs 1,000/- per month
A Readjustment Allowance of Rs. 40,000/- upon successful completion of the Fellowship
To and fro travel costs of the Fellows from his/her place of residence to project location as well as for training programmes
Medical Insurance
Mentorship by experienced professionals in the field
Access to the Community through well-established Partner NGOs
Linkages with premier organizations of the country
After Completion of Scholarship
After successful completion of the fellowship, candidates will receive an adjustable amount of Rs. 40,000 and a certificate from SBI Youth for India.
Reference Section
The reference section is essential and you will have to fill details of two references – an academic reference (from your professor, Head of Department, etc.) and a professional reference (from the immediate manager, higher management, etc).
In case of a fresher, we will accept references from any organization you have interned or volunteered with as your professional reference. We don't accept references from family members or friends.
Once the application form is submitted, we shall send a reference form link via e-mail to your referee's. Kindly follow-up with your referees and ensure they send us the filled forms at the earliest
Please ensure your references should be in a position to promptly respond to communication over email or phone. Once submitted, you will not be able to change the contact details of any of your references
Note: SBI Youth for India does not offer any job post the completion of the 13-month programme.
We provided here complete information regarding the SBI Youth Fellowship 2022. If there is any queries please tell us through the comment box given below. We will reply to the answer to your queries.