LSAT Syllabus 2023: Law School Admission Test (LSAT) is an entrance test managed by Law School Admission Council, USA to offers admission in to various UG, PG and integrated law programmes. Candidates can get admission in different law colleges across the country. Candidates keen to pursue law can apply for LSAT 2023. Usually, this exam is organized 4 times in a year but Indian candidates can apply only once.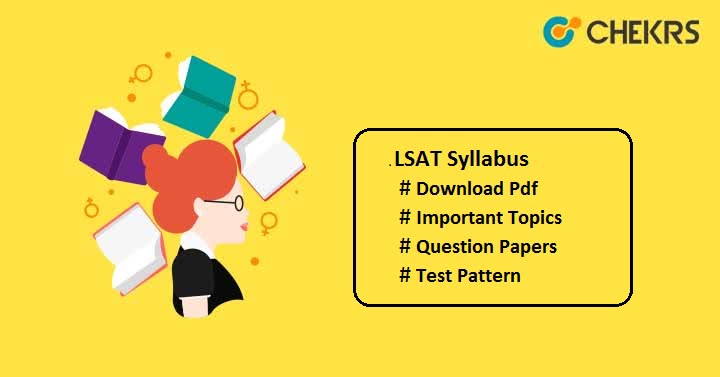 Candidates who are going to appear for this exam need to check the syllabus and LSAT Exam Pattern and LSAT Question Papers also. The syllabus is comprised of 4 sections. Students must know every section in order to score maximum marks in the exam.
Here we have provided the LSAT Exam Syllabus with section wise topics.
LSAT Syllabus 2023
Sections
Syllabus
Reading Comprehension

The main idea or primary purpose
The organization or structure
Principles that function in the selection
Information that is explicitly stated
Analogies to claims or arguments in the selection
Information or ideas that can be inferred
The application of information in the selection to a new context
The impact of new information on claims or arguments in the selection
The meaning or purpose of words or phrases as used in the context
An author's attitude as revealed in the tone of a passage or the language used

Analytical Reasoning

Recognizing when two statements are logically equivalent in context by identifying a condition or rule that could replace one of the original conditions while still resulting in the same possible outcomes
Reasoning with conditional ("if-then") statements and recognizing logically equivalent formulations of such statements
Inferring what could be true or must be true from given facts and rules
Comprehending the basic structure of a set of relationships by determining a complete solution to the problem posed (for example, an acceptable seating arrangement of all six diplomats around a table)
Inferring what could be true or must be true from given facts and rules together with new information in the form of an additional or substitute fact or rule

Logical Reasoning

Recognizing the parts of an argument and their relationships
Identifying explanations
Reasoning by analogy
Recognizing similarities and differences between patterns of reasoning
Determining how additional evidence affects an argument
Identifying flaws in arguments
Recognizing misunderstandings or points of disagreement
Detecting assumptions made by particular arguments
Drawing well-supported conclusions
Identifying and applying principles or rules
LSAT 2023 Exam Pattern
Aspirants should know the LSAT Exam Pattern to make the appropriate strategies for the exam preparation as it will help them to understand how to perform well in the examination. In LSAT exam syllabus, one more sections will be there i.e. Writing Skills or Variable section. For this section, no marks will be awarded and you will not know which section is unscored section. So you will have to attempt all 5 sections.
Mode of Exam
Offline (pen-paper based)
Duration of Exam
2 hours 20 minutes
Type of Questions
Multiple Choice Questions
Paper Medium (Language)
English
No of Sections
4
Total Questions
around 96 – 100
Sections
No of Questions
Time Duration (in Minutes)
I – Analytical Reasoning
Approx 24
35
II – Logical

Reasoning (1)

Approx 24
35
III – Reading Comprehension
Approx 24
35
IV – Logical Reasoning (2)
Approx 24
35
Writing Skills Variable Section
1 or 2   (Unscored sections)
–
Marking Scheme
1 marks for each correct response. No negative marking
LSAT Question Papers 2023
Once completing the exam syllabus students should start practicing Previous Year Papers to analyze their knowledge and to strengthen their preparation also. Give Online Mock Tests on regular basis to improve your speed and accuracy. Here we have mentioned the LSAT Question Paper Download link for you. Without wasting your time just download the papers and start preparing from today. Click Here to download the LSAT Sample Papers.
LSAT Syllabus 2023: Official Website