JEE Main Photo Specification 2020: Candidate stay careful while filling your application form for JEE Mains 2018. You should know the all aspects to fill form like specification of photograph, signature, thumb impression etc.
If they will not match with specification then form can't submit. So keep reading this article to know about the all standard rule for photograph, signature, and thumb impression.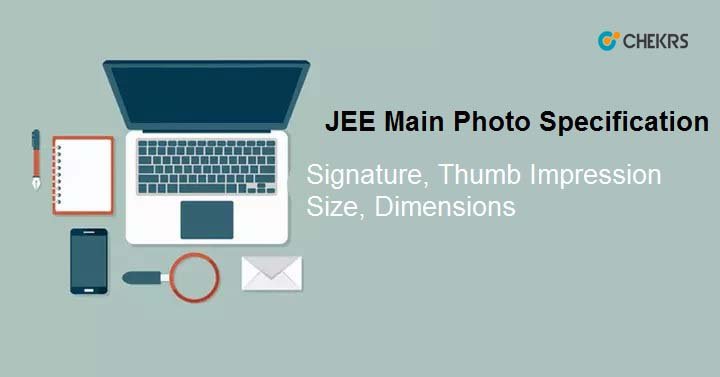 Photo should be recently clicked passport size.
Photo should be either color or b/w with name and date of taking the picture printed on it.
Background should be white or light color in picture.
Candidate should be looking straight at camera with a relaxed face.
If the picture is taken on a sunny day, the sun should be behind you, or it should be clicked in the shade, so that you are not squinting and there are no harsh shadows.
There should be no 'red eye' if picture has taken with flash.
Hats, caps and dark glasses are not allowed to wear in picture, only religious headwear is allowed, but it must not cover your face.
If you used to wear glasses then you have to ensure that there are no reflections and your eyes can be clearly seen.
JEE Main 2020: Specification of photograph and signature
A standard size is fixed which is acceptable in form for both photograph and signature. If the size exceed from standard then adjust setting of your scanner in the manner of no. of colors, DPI resolution, etc.
Specification of photograph:
| Particulars | Specification |
| --- | --- |
| The maximum size of photograph must be | 40kb. |
| Dimension should be | 3.5cm X 4.5cm. |
| Format should be | JPEG. |
| Size can vary from | 4kb to 40kb. |
| Preferred Background is | White or lightcolor |
Specification of signature:
The signature of candidate and Father/mother/guardian require in the form of photograph.
Signature has to be done on a white paper with Black pen.
Signature must be done only by the applicant and father/mother/guardian (separately) & not by any other person.
The applicants signature on the attendance sheet at the time of examination and on the admit card should similar the uploaded signature. In case of mismatch, candidate will be disqualified.
| Particulars | Specifications |
| --- | --- |
| Dimension must be | 3.5cm X 1.5cm |
| Format should be | JPEG |
| File Size can vary from | 1kb to 30kb |
| Maximum file size can | 30kb |
| Signature Background should be | White |
Thumb Impression for JEE Mains Application
Candidate have to upload a left hand thumb impression in the JEE Mains 2020 application form.
Thumb impression should follow all the specifications issued by JEE authority.
Candidate can use a blue/black ink stamp pad to take a left thumb impression.
Candidate have to place left thumb in stamp pad and then put it on a white paper.
The thumb impression should not be faded or dark.
Now take a picture of that thumb impression.
The dimension of the picture of thumb impression 3.5CM X 1.5CM is acceptable.
The maximum size of picture could be 50kb and it can vary between 10kb to 50 kb.
The left thumb impression in form should match to the thumb impression in attendance sheet during exam.
If there is any difference in both thumb impression then candidate could be disqualified.
Name
File size
Format
File dimension
Background
Photograph
4kb to 40kb.

JPEG

3.5cm X 4.5cm.

White

Signature
1kb to 30kb
3.5cm X 1.5cm.
Thumb
10kb to 50 kb
3.5CM X 1.5CM