IPU CET Previous Year Question Paper
IPU CET Previous Year Question Paper: Guru Gobind Singh Indraprastha University conducts the IPU CET Exam to provide admission to various UG, PG courses. The entrance exam is also Known as GGSIPU CET and Indraprastha CET. Some of the Indraprastha CET Previous Years Papers are out there and that's why we prepared this article to provide required information at a single place.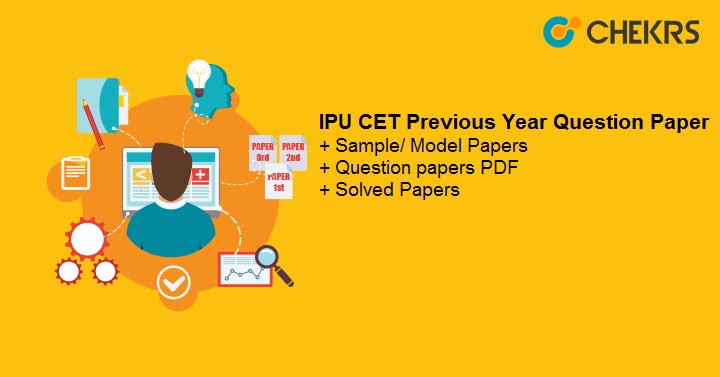 IPU CET Previous Question Paper will help you to understand the exam and Paper Pattern. Candidates can use these Questions papers as a sample paper in their preparation.
Download IPU CET Previous Year Question Paper PDF
We have collected some IPU/ GGSIPU Previous Year Questions Papers PDF and providing them here. We are still finding more and we will update the table when we will find more.
 In the above table, IPU CET Previous Year Question Paper are provided Subject and Year Wise. Download the Previous year papers and start your preparation. Make sure to check this article and table regularly, to get the up-to-date info.
 IPU CET Sample and Solved Paper
In the search process we have also found some solved papers, And Providing you all here in a separate table. Make sure to practice with these papers also. After solving the papers you can also check your response.
| | |
| --- | --- |
| Indraprastha CET Previous years Papers Solved | Download |
| IPU CET Previous Paper Solved | Download |
| GGSIPU CET Previous Year Paper Solved | Download |
| Sample Paper ( Basic Questions) | Download |
In this table, the first three are the solved paper and the last one is having some basic questions of IPU CET Exam. So start your preparation and use these IPU CET Previous Year Question Paper PDF in a right way.
How to Prepare for IPU CET 2019 with Previous Year Question Papers
Candidate needs to download the IPU CET Syllabus and check the exam pattern first.
After that they need to start their preparation, means know the pattern, subject and with syllabus start study.
Candidates can use Graphical methods and diagrams to remember things better.
After completing the Syllabus, start solving IPU CET Previous Year Question Papers and Solved Question Papers.
After solving each paper check your response.
Now If you found the wrong response and answers, Check the syllabus and mark the topics and prepare the marked topics again.
Don't forget to do the revision of the complete syllabus regularly.
So that's how the IPU CET Previous Year Question Paper can help you to crack the IPU CET Exam. After going through the same article we found that we have provided 7 years IPU CET Question Papers. So it is more than required, but if you still want more papers than you can go through GGSIPU CET Previous Year Solved Papers book by Arihant publication which has Solved question papers from the Year 2004 until the last year.  You can purchase it and start solving all the papers. Good Luck for the IPU CET 2019. Keep Visiting.
Official Website: IPU CET Previous Year Question Paper