IIFT Syllabus 2024 Pdf: Candidates preparing for IIFT-2024 need to check the complete syllabus to crack the exam with good marks. The Indian Institute of Foreign Trade (IIFT) will prescribe the syllabus and IIFT Entrance Exam Pattern and will make them available on the official website.
If you have not started preparing for the exam and are still searching for IIFT Exam Syllabus, then don't worry because here we have gathered all the topics that are important from the exam point of view to make your task easy.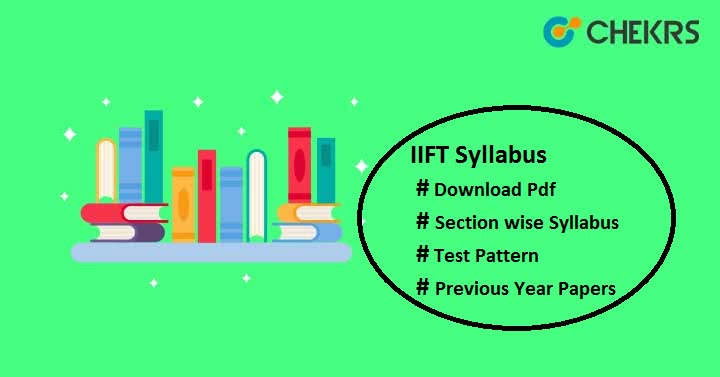 Go through the Section-wise Syllabus to perform well in the exam and prepare yourself accordingly.
Section
Syllabus
English Grammar, Vocabulary and Comprehension

Grammar
Preposition
Phrases
Idioms
Analogy
Matching word meanings
Fill in the blanks
Vocabulary
Synonyms-Antonyms
Odd word out
Para Formation Questions
Figures of speech
Reading Comprehension

General Knowledge and Current affairs

Social issues
World Records
Books, and authors
Science
History
Geography
International organizations Business
Sports
Finance
Entertainment, Films
Politics etc

Logical Reasoning & Date Interpretation

Coding-Decoding
Series & Analysis
Input & Output
Directions
Seating Arrangement
Selections
Linear word formation
Puzzles

Quantitative Analysis

Number system
Simple Interest & Compound Interest
Profit & Loss
Averages
Time, Distance, Work & Heights
Complex numbers,
Logarithm
Probability
Permutations & Combinations
Trigonometry
Vectors,
HCF & LCM
Progression
Ratios and Proportion
Percentages
Algebra etc
IIFT Syllabus 2024 Exam Pattern
To give the entrance exam with better preparation candidates are advised to follow the IIFT Exam Pattern with the exam syllabus. It will give you the overview of question paper and exam also like what to study, marking scheme, mode of examination, paper language, type of question will be asked, level of difficulty of paper etc.
Mode of Examination
Offline (Pen-paper based)
Paper Language
English
Question Types
Multiple Choice Questions
Time Duration
2 hours
Total Questions
118
Total Marks
100
Paper Pattern
Sections
No of 

Questions

Marks per Question
Total Marks
Negative Marking
Section-1
General Knowledge and Current affairs
26
0.5
13
.17
Section-2
English Usage
20
0.75
15
.25
Reading Comprehension
17
1
17
.33
Section-3
Logical Reasoning
20
1
20
.33

Data Interpretation
15
1
15
.33
Section-4
Quantitative Ability
20
1
20
.33
The number of questions in each section is not fixed. Here we have listed the number of questions on the basis of last year's question papers. Candidates can also take the help of Previous Year Paper to get the rough idea of original question papers.
Still confused about the IIFT 2024 Syllabus and exam pattern, you can ask your query in the below comment section. We will reply with the relevant answer. Good Luck!!!
Official Website: IIFT Syllabus 2024 Pdf