GMAT 2020
GMAT 2020: GMAT is a national level entrance exam for Management courses. It is also known as Graduate Management Admission Test. GMAT is being organized by the Graduate Management Admission Council (GMAC). Candidates can apply for it 5 times in a Year to get admission to MBA program.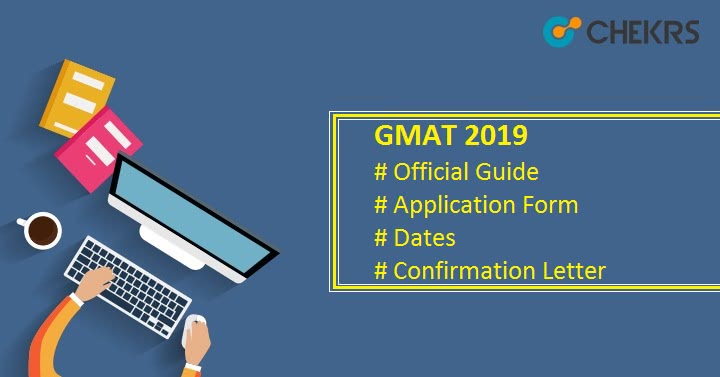 GMAT entrance exam will help you to get admission to the foreign country's institutions and Universities. GMAT Score also considered providing admission in some Institutes in India. GMAT Application Form or Registration will be opened throughout the year
GMAT 2020 in a Glance
Name of Exam: GMAT 2020 or Graduate Management Admission Test
Administered by: Graduate Management Admission Council (GMAC)
Type of Exam: National/ International Level Entrance Exam
Offered Programs: MBA
Mode of Exam: Online
GMAT 2020 Eligibility Criteria
For appearing into GMAT Entrance exam candidates must fulfill all the previous but not fixed GMAT Eligibility Criteria. Some of them are listed below.
The minimum age required to apply for GMAT is 18 years and there is no upper age limit.
Mussed qualified/Passed their bachelor degree from any recognized college or university.
Candidates are not allowed to appear in the examination more than five times in a year & not more than 8 times total.
GMAT 2020 Application Form
GMAT Application Form or Registration will be opened throughout the year. Candidates need to fill the online form through Official website. Before filling the application form, candidates are required to read all the instructions carefully. Then Move to GMAT Registration Process.
GMAT Application Fee
GMAT Application Fee is US $250. After Conversion GMAT Registration Fee / Application is Rs. 17027.50/- in India. It can be paid through mode. In Online mode candidates can pay the fee using Visa Card/Master Card/American Express/JCB cards or through Cashier's Checks/Money Orders/Personal Checks.
Procedure to fill up the Application Form
Candidates have to first visit the official website. Then they will find Registration link which will guide them to the GMAT Registration Form.
After clicking on the link candidates will be redirected to the registration form, where they need to provide all the asked details for the registration procedure.
After providing all the details and clicking on the button, Candidates will get an E-Mail with their login details.
Now again visit the website or click on the link you got in the email to fill the application form.
After reaching out at Website, log in there and move to the Application Form.
Now Fill all the asked details and Upload all the images, Take a print out and submit the form.
After it Pay the required fee through the available mode of payment. And download/Print the receipt.
GMAT 2020 Exam Centers
Ahmedabad, Bangalore, Bhubaneswar, Chennai, Cochin, Coimbatore, Dehradun, Gurgaon, Guwahati, Hyderabad, Indore, Jaipur, Kolkata, Lucknow, Manipal, Mohali, Mumbai, Mysore, Nagpur, New Delhi, Noida, Patiala, Patna, Pilani, Pune, Ranchi, Tiruchirappalli, Trivandrum, Vellore, Vijayawada & Vishakhapatnam.
GMAT 2020 Exam Pattern
After Filling the Application Form Candidates will search for content related to the Exam for their preparation. So to makes things easy for you we are also providing GMAT Exam Pattern here.
Mode of Exam
Online
Duration of Exam
3 Hours and 3o minutes
Total Marks
800
NOTE: Candidates will be allowed to take 2 optional  8-minute breaks during the exam.
GMAT 2020 Syllabus
GMAT Syllabus will be from the subjects Analytical Reasoning, Verbal, Quantitative and Integrated Reasoning. We are providing here the weight of each Section.
Section
Question Types
Score Range
Time
No. of Questions
Analytical Writing Assessment
Analysis of an Argument
0-6 in 0.5-point increments
30
1
Integrated Reasoning
Multi-Source Reasoning
1-8 in 1-point increments
30
12
Table Analysis
Graphics Interpretation
Two-Part Analysis
Quantitative Reasoning
Data Sufficiency
0-60 in 1-point increments
75
37
Problem Solving
Verbal Reasoning
Reading Comprehension
0-60 in 1-point increments
75
41
Critical Reasoning
Sentence Correction
GMAT Confirmation Letter
The authority will release a Confirmation letter on the official website. Candidates need to Login on the official website and access their Confirmation letter. GMAT 2020 Confirmation Letter will be required at the exam center. So, download the admit card/ Confirmation letter and print it out. Also, don't forget to bring it along with a photo id to the Exam Center.
GMAT Preparation Tips
Following are some tips, how to score good marks in GMAT Entrance Exam:-
Manage Time Properly. Divide time for each subject.
Make your own notes, follow the concepts & formulas.
Take the help of reference books and GMAT Previous Year Paper.
Give mock tests regularly. Giving mock tests will increase your speed and accuracy.
GMAT Answer Key 2020
The Exam Authority will also release Answer key after the Examination. The answer key will be available on the official website. The candidate has to Visit the official site and then they need to login there. They will have to find the GMAT Answer Key. After it, the answer key will appear on the screen. Download it. And Match your responses.
GMAT 2020 Result
The result will be released on the Official website. Candidates need to Check and download the GMAT Result pdf after logging to the official website. With the result, Authority will also prepare and release the GMAT 2020 Merit List. Qualified Candidates Name and Roll Number will be listed on it. To be listed on the merit list candidates have to obtain marks more than the GMAT Cutoff Marks.
GMAT 2020 Admission
Exam authority will also provide the scorecard to all the qualified students. Candidates have to visit the official website and log in on it to download their GMAT 2020 Scorecard. GMAT Score Card will be considered for admission into various colleges. Thus Candidates will get admission to MBA courses into various reputed University and Colleges across India.
Official Links: GMAT 2020.