DBRAU Entrance Exam Syllabus 2021: Applicants who appearing for the DBRAU Entrance Exam is required to know that the university released the seats for the PH.D., M.PHIL and the various UG and PG courses.
So the applicant gets to start the preparation for their entrance exam at Agra University. Some of the applicants do not know the syllabus of the exam. So we are providing here the Agra University Entrance Exam Syllabus 2021.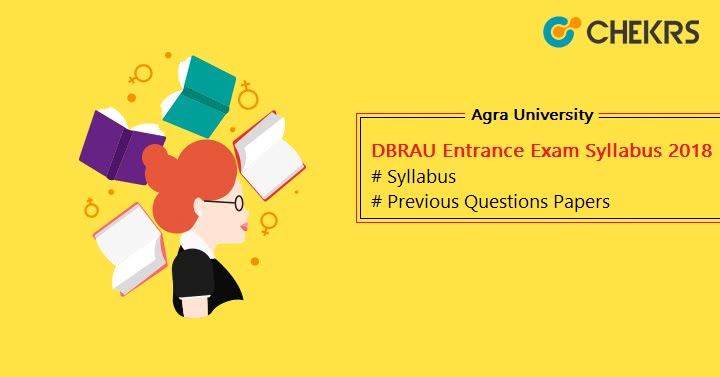 The Syllabus for the entrance test will be the same as for the Gate/ ICAR/ GPAT/ UGC/ CSIR/ Exam so the candidate has to prepare according
List of PH.D. Programs
Economics
Home science
Zoology
Sociology
Law
Political Science
Information Technology
Mathematics
Hindi
Physics
History
Horticulture
Education
Management
Biotechnology
Human Right Law
Library & Information science
Education
Pharmaceutics
Statistics
Chemistry
Computer science
Environmental science
Political Science
Biotechnology
Environmental Microbiology
List of UG/PG/Diploma/Certificate Programs
Get latest updates via SMS and Email
Programs
Syllabus
M.A.(Economics)

Basic Economics
Basic Statistics
Indian Economic Problems
Logical Aptitude
Mathematical aptitude
General Studies

M.A.(History)

Questions related to the subject will cover Ancient, Medieval, Modern and Contemporary History
Study of Economics, Social and culture changes in the Indian society

M.A.(Political Science)

Western Political Philosophy
Modern Indian Political Thought
Political Theory
Indian Government and technology
General issues of contemporary relevance

M.A.(Public Administration)

General Knowledge
Constitution of India

M.A.(Sociology)

Status and roles
Norms and values
Social group and types
Socialization
Education
Economy
Caste

M.A.(Education)

Numerical Ability
Mental Ability
G.K. and General Studies
English

M.Sc(Ag) Horticulture

Part A: General Agriculture
Part B: Consisting all branches of horticulture

M.Sc.(Biotechnology)

Chemistry
Botany
Zoology
Biotechnology
Biochemistry
Microbiology
Molecular Biology
Immunology

M.Sc(Brain & Cognition Sciences)
M.Sc(Forensic Science & Criminology)

Molecular Biology
Human genetics
General Science
Crimonlogy
Criminal Law
Finger Print Science
Biological Science
Chemical Science
Anthropology

M.Sc.(Environmental Science)

Required knowledge of chemistry
Life Science/Biology
Global and Indian Environmental problems/issues

M.Sc.(Human Development and Family Studies)
Graduate Level Knowledge of all branches of home Science
M.Sc.(Food Science and Technology)
Graduate level Knowledge of all branches of Home Science
 For more detail of the exam, syllabus click on the link DBRAU Exam Entrance Syllabus
Agra University (DBRAU) 2021: Previous Questions Papers
An applicant who appears for the Agra University Entrance Exam is required to prepare well for their examination. So that they can score good marks in their exam. So we are providing here the DBRAU Previous Year Question Paper. The applicant is required to solve the previous year question paper so that they can get the idea of the question and the exam pattern comes in the exam. In order to that, we are providing here the DBRAU Previous Questions Papers. Applicants can download the previous year question paper From the Link given below.
The information provided here is as per the official notification. The applicant can download the syllabus and the previous year's question paper from the link provided above the article. If there is any queries candidate can go to the official site.
Official Site: Agra University(DBRAU) Entrance Exam Syllabus 2021