COMEDK UGET Syllabus 2024: COMEDK UGET is an entrance exam conducted for candidates wishing to take admission for undergraduate engineering courses. Candidates, who are still looking for COMEDK exam stuff like syllabus, exam pattern, previous year paper etc, are advised not to waste their time. We have brought COMEDK Syllabus to help those candidates who still do not know what to study or what not to.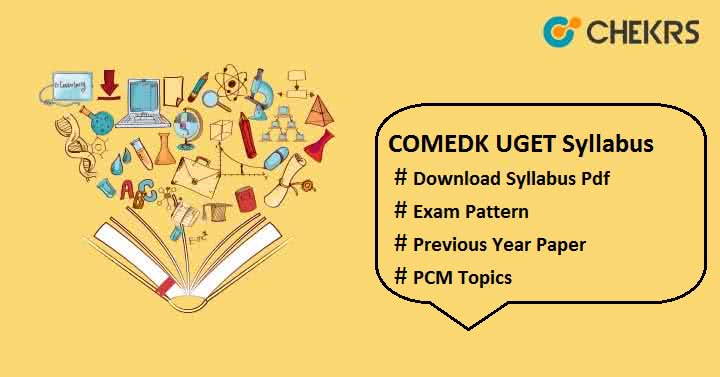 The exam syllabus is similar to the class 12th syllabus. Those who have completed their class 12 physics, chemistry & mathematics syllabus need to check COMEDK UGET Previous Year Paper.
Here we have provided the COMEDK Engineering Syllabus with topics. Go through the syllabus and start your exam preparation from today to perform in a better way.
Subjects
Syllabus
Mathematics

Relations & Functions
Algebra
Calculus
Vectors and 3-D Geometry
Linear Programming
Probability

Physics

Electrostatics
Units of Measurement
Motion in one, two & three dimensions
Oscillations
Kinetic Energy
Heat & Thermodynamics
Current Electricity
Magnetic Effects of Current & Magnetism
Electromagnetic Induction & Alternating Currents
Optics
Electromagnetic Waves
Dual Nature of Matter & Radiation
Electronic Devices
Atoms & Nuclei
Communication Systems

Chemistry

Solid State
Solutions
Electrochemistry
Chemical Kinetics
Surface Chemistry
General principles and processes of isolation of Elements
P – Block Elements
Co-ordination Compounds
d and f – Block Elements
Environmental Chemistry
Haloalkanes and Haloarenes
Alcohols, Phenols and Ethers
Aldehydes, Ketones and Carboxylic Acids
Organic Compounds containing Nitrogen
Polymers
Bio Molecules
Chemistry in Everyday Life
COMEDK UGET 2024 Exam Pattern
The examination controller will decide the exam pattern of COMEDK.  All candidates who want to know the exact paper pattern may check the given COMEDK Exam Pattern here. It will tell you type of question, marking scheme, no of question per subjects, weightage of each subjects, etc. You must check the pattern before starting the preparation; it will clear your all doubts regarding the question paper.
Mode of Examination
Online
Time Duration
3 hours
Paper Language
English
Type of Question
Objective type
Total Questions
180
Total Marks
180
Question Pattern
Sections
No of Questions
Marks per Question
Marks
Physics
60
1
60
Chemistry
60
60
Mathematics/ Biology
60
60
Marking Scheme
No Negative Marking
You can also check last time preparation tips to crack this exam. Students should first briefly understand concepts, note down important points and formulas and revise them on regular basis. Try to solve 10 mock test papers to increase your speed and accuracy.
Here we have provided the complete information about the exam syllabus with the pattern. Still you have any query regarding COMEDK UGET Syllabus 2024; you can leave a message in the comment section below.
Official Website: COMEDK UGET Syllabus 2024.