CG PPT Syllabus 2024 – Chhattisgarh Polytechnic Exam Pattern: Candidates who are interested to take admission in government or private polytechnic institute of Chhattisgarh state various polytechnic courses can apply for CG PPT. CG PPT stands for Chhattisgarh Pre-Polytechnic Test. If you are aiming to appear in this exam and looking for an exam syllabus, then you are in the right place.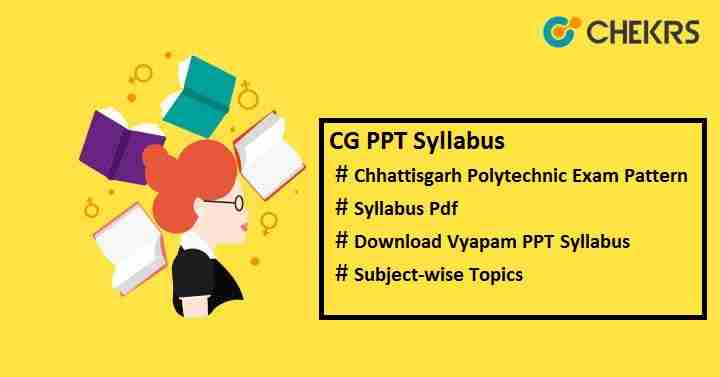 Here we have provided the exam syllabus along with the Chhattisgarh Polytechnic Exam Pattern for you so that you can take the help of the syllabus and start your exam preparation.
Subjects
Units & its topics
Science
Unit-1: General Properties of Matter And Sound

Measurement, Motion & Force
Work and Energy
Wave and Sound

Unit-2: Matter: Structure & Behavior

Matter: Nature and Behavior
Structure of Atom

Unit-3: Light, Electricity & Magnetism

Light
Electricity and its effects
Magnetic effect of current
Magnetism

Unit-4: Classification of Elements, Chemical Bonding, Reaction & Some Important Compound

Periodic Classification of Elements
Chemical Bonding
Chemical Reactions
Rate of chemical reaction and chemical equilibrium
Some important chemical compounds

Unit-5: Natural Resources

Metals
Nonmetals
Coal and petroleum
Hydrocarbon
Source of Energy

Unit-6: Our Environment
Mathematics
Unit-1: Algebra
Unit-2: Trignometry
Unit-3: Geometry
Unit-4: Co-Ordinate Geometry
Unit-5: Mensuration
Unit-6: Statistics
CPEB (Chhattisgarh Professional Examination Board) will release the syllabus officially on its official website. Candidates who want to know the official CG PPT Syllabus 2024 Pdf can Check Here.
CG PPT 2024 Exam Pattern
It is very important to know the exam syllabus along as well as the exam patterns because it will guide you on what to study, which topics are more important and how many marks. CG PPT Exam Pattern will be decided by the examination controller of CPEB. The paper pattern is the same as the previous year. There is no modification in the exam pattern, so here we have shared the Chhattisgarh Polytechnic 2024 Exam Pattern.
Mode of Examination
Offline (Pen-paper based )
Time Duration
3 hours
Question Type
Multiple Choice Questions
Paper Language
English, Hindi
Total Questions
150
Total Marks
150
Question Pattern
Sections
No of Questions
Marks per Question
Marks
Physics
50
1
50
Chemistry
50
50
Mathematics
50
50
Marking Scheme
No deduction in marks
The syllabus will be of class 10 level.  We suggest you focus on the NCERT 10 syllabus to score good marks in the polytechnic entrance exam. You can also take the help of CG PPT Previous Year Papers to get the exact idea of original question papers. Start preparing from today and try to give an online mock tests on a daily basis after completing the exam syllabus.
For any sort of query, you can drop your question in the Comment section below. We will reply to you soon. Keep visiting this site to get the latest updates. All the Best!!!
Official Website: CG PPT Syllabus 2024.