Bharath Engineering Entrance Exam 2017: The Bharat University is ready to going conduct entrance examination for students to new session 2016-17. Every year many students go to engineering education so Bharath University is ready to take Admission in Bharath University. Students, who want to take admission in Bharat University, should be passed in Bharath University EEE 2017. The candidate who wants to take admission in Bharath University to engineering courses program and appear to Bharath University EEE can check below all complete details like mode of examination, mode of selection, admit card, exam pattern, sample paper, eligible criteria and much other information.
भरत इंजीनियरिंग प्रवेश परीक्षा 2017
बीईईई चरण -2 परीक्षा आवेदन पत्र 2017, 01 अप्रैल तक स्वीकार किया जाएगा। भरत इंजीनियरिंग प्रवेश परीक्षा पंजीकरण फार्म, पाठ्यक्रम, परीक्षा पैटर्न, प्रवेश पत्र, पिछले वर्ष पेपर्स, सैंपल पेपर्स, रिजल्ट, काउंसलिंग, सीट आवंटन प्रक्रिया यहाँ जांची जा सकती है।
Bharath EEE 2017 Application Process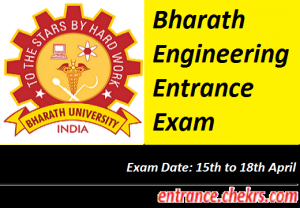 The application form of Bharath University Engineering Entrance Examination is open now. In the BEEE Application form 2017, candidates filled the all personal, educational and mandatory entries. The Bharat University EEE Application is a way to take admission in Bharath University.  So finally Application form must be filled by students to take admission in Bharath University.
Bharath Engineering Entrance Exam 2017
Exam Name: Bharath University Engineering Entrance Examination
Organization Board: Bharath University
Exam Type: University level Examination
Exam Category: Undergraduate (UG) Examination
BEEE Eligible Criteria 2017
The BEEE Admission will be purely on the basis of the performance in the Bharat Engineering Entrance Examination (BEEE) conducted by Bharath Institute of Higher Education and Research (BIHER).
Students will be a person of Indian country.
Students should have studied in the school located in India in the preceding 10+2years for admission to undergraduate courses.
The student should be passed in higher secondary class with subjects Physics, Chemistry, and Mathematics with minimum 50% aggregate.
Students should have studied in the educational institution in India and complete their qualifying examination.
BEEE Courses Offered 2017
Bharath University invites students to take admission in various types of engineering courses. Engineering education has many streams to do engineering. Students can select easily engineering stream and engineering courses stream filled by the students in the application form. Many different engineering are given below
Aeronautical Engineering
Automobile Engineering
Aerospace Engineering
Biomedical Engineering
Bioprocess Engineering
Chemical Engineering
Civil Engineering
Civil Infrastructure Engineering
Computer Science & Engineering
Computer Software & Engineering
Electrical Engineering
Electrical & Electronic Engineering
Electronic & Communication Engineering
Electronics & Control Engineering
Electronic & Instrumentation Engineering
Electronic & Telecommunication Engineering
Food Process Engineering
Genetic Engineering
Industrial Engineering
Information Engineering
Instrumentation Engineering
Mechanical Engineering
Nano Technology
Production Engineering
Check Also:
SAU (South Asian University) 2017 Application Form
Bennett University Admission Form 2017
Engineering Entrance Exam Calendar 2017
Bharath University EEE Application fee 2017
Students to apply online registration form should have to pay application fee to attend in entrance examination and will pay money chose one of the given below following methods
Students can pay the application fee by the bank demand draft in favor of Bharath University.
Students also pay the application fee by through direct that means students go to Bharat University and pay cash to fee counter in the campus.
Students to take admission in Bharath EEE can pay the fee by using mode of online like credit card/ net banking and another online mode.
Students have to need to attend entrance exam then syllabus helps to make good score or rank in the examination. Bharath University Engineering Entrance Exam Syllabus will be based on 11th and 12th class standard that comes subjects under are Physics, Chemistry, and Mathematics. All question ask in the examination must be Objective types and multiple choice and objective.
BEEE English Syllabus 2017
In the Bharat University, Engineering Entrance Test will be 10 question of English subject as per higher secondary level.
BEEE Physics Syllabus 2017
Unit and Measurements
Mechanics
Gravitation, Mechanics of Solid and Fluids
Oscillations and Wave Motion
Heat and Thermodynamics
Atomic Physics and Relativity
Dual Nature of Matter and Nuclear Physics
Electronics and communication
Ray and Wave optics
BEEE Chemistry Syllabus 2017
Some basic Concepts in Chemistry
The State of Matter
Solutions
Chemical Equilibrium
Electrochemistry
Atomic Structure
Surface Chemistry, Chemical Kinetics, and Catalysis
Chemical Bonding and Molecular Structure
Hydrocarbons
Organic Compounds Containing oxygen
Polymers
BEEE Mathematics Syllabus 2017
Sets, Relations, and Functions
Complex Numbers
Matrices and determinants
Quadratic Equations
Permutations and Combinations
Trigonometry
Sequences and Series
Differential Calculus
Integral Calculus
Differential Equations
Circles in Two Dimensions
Vector Algebra
BEEE Syllabus, Exam Pattern 2017
The entrance exam will be based on written. The entire question in exam papers will be the optional and multiple choice. Only one option will select by students for the right answer.
In English Subject 10 questions with a total number of 10 marks.
In Physics Subject 30 questions with a total number of 30 marks.
In Chemistry Subject 30 questions with a total of 30 marks.
In Mathematics Subject 30 questions with a total number of 30 marks.
No Negative marking for wrong answer.
Total numbers of marks are 100.
Bharath University EEE Admit Card 2017
The Bharath University Engineering Entrance Exam Admit Card 2017 will be updated shortly for only for those candidates who have to submit their application form. The admit card is identified to students for allowing students in the examination center. Without the BEEE Admit Card 2017, the applicant will not be able to entry in the examination center.  Students should necessarily bring their admit card with any ID proof card documents to the examination center.
BEEE Sample Papers 2017
Bharath University sample paper helps to prepare for the students. Sample Papers is a way to teach students to give entrance examination paper. In the question paper, there will multiple choice question in BEEE previous Year papers.
Bharath University EEE Address
Bharath University,
# 173 Agharam Road Selaiyur,
Chennai – 600 073
Tamil Nadu, India
University Phone: + 91 – 44 – 2229 0742, 2229 0125
Fax: + 91 – 44 – 2229 3886
Email: vc@bharathuniv.ac.in
For Admission
Phone: + 91 – 44 – 2229 0247
Email: admission@bharathuniv.ac.in
Phone: + 91 – 44 – 2229 9013
Email: artsadmission@bharathuniv.ac.in
website: www.bharathuniv.ac.in
Check BEEE Registration Process 2017
Bharath Engineering Entrance Exam 2017
Bharath University conducts entrance examination for all Indian students to engineering education for under graduation and post graduation students. Candidates meeting the eligibility norms in all the aspects are invited to apply by submitting the Bharath EEE Application Form 2017 for Phase-II Exam to the given address on or before 01st April 2017. Candidates who want to take their admission in Bharat University can apply application form and the university will shortlist students for Bharath University Entrance Exam. Bharath EEE will be conducted from 15th to 18th April 2017. More information related to Bharath Engineering  Entrance Exam can be checked by following the above direct link or you may contact us by commenting at the end of the post.