Assam CEE Syllabus 2024 Physics Chemistry Mathematics Exam Pattern 2024 PDF Download: Assam Combined Entrance Examination (CEE) is an entrance exam conducted by the Assam Science and Technology University (ASTU) every year. Through Assam CEE 2024, candidates can get admission to the various government engineering colleges for bachelor degree in the field of engineering & technology.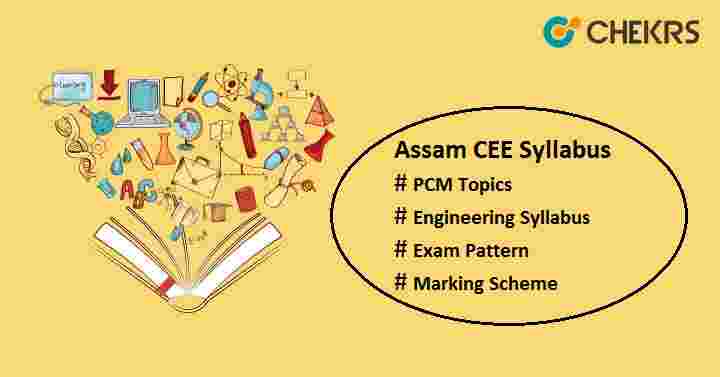 Candidates are advised to start exam preparation as per the CEE Assam 2024 Syllabus prescribed by the official authority. The exam syllabus is similar to JEE Main Syllabus. Applicants should complete the class 11 & 12 NCERT Syllabus first and then start practicing the previous year papers to crack this exam.
Here we have mentioned Assam CEE PCM Topics so that you can check the topics and start preparing right now if you have not yet started your exam preparation.
Assam CEE Syllabus 2024 (Subject Wise)
Subjects
Topics
Physics

Physical World and Measurement
Kinematics
Laws of Motion
Work, Energy and Power
Motion of System of Particles and Rigid Body
Gravitation
Properties of Bulk Matter
Thermodynamics
Behaviour of Perfect Gases and Kinetic Theory of Gases
Mechanical waves and Ray Optics
Electrostatics
Current Electricity
Magnetic Effect of Current & Magnetism
Electromagnetic Induction & Alternating Current
Electromagnetic Waves
Optics
Dual Nature of Matter
Atoms & Nuclei
Electronic Devices
Communication Systems

Chemistry

Some Basic Concepts of Chemistry
Structure of Atom
Classification of Elements & Periodicity in Properties
Chemical Bonding and Molecular Structure
States of Matter: Gases and Liquids
Chemical Thermodynamics
Equilibrium
Redox Reactions
Hydrogen
s-Block Elements
p-Block Elements
Organic Chemistry: Basic Principles & Techniques
Hydrocarbons
Environmental Chemistry
Solid State
Solutions
Electrochemistry
Chemical Kinetics
Surface Chemistry
Isolation of Elements
p-Block Elements
d- and f-Block Elements
Coordination Compounds
Haloalkanes and Haloarenes
Alcohols, Phenols and Ethers
Aldehydes, Ketones and Carboxylic Acids
Organic Compounds containing Nitrogen
Biomolecules
Polymers
Chemistry in Everyday Life

Mathematics

Sets and Functions
Algebra
Co-ordinate Geometry
Calculus
Mathematical Reasoning
Statistics and Probability
Relation and Functions
Algebra
Calculus
Vectors and Three – Dimensional Geometry
Linear Programming
Probability
Assam CEE 2024 Exam Pattern
The DTE, Assam and ASTU will decide the Exam Pattern for Assam CEE. Here we have provided the ASSAM CEE Exam Pattern for BTech/ BE programme. Through this you can idea of paper & exam pattern like time duration, marking scheme, language of paper, mode of examination, question type etc.
Mode of Examination
Offline (Pen-paper based )
Time Duration
3 hours
Question Type
Multiple Choice Questions
Paper Language
English, Assamese
Total Questions
120
Total Marks
480
Question Pattern
Sections
No of Questions
Marks per Question
Marks
Physics
40
4
160
Chemistry
40
160
Mathematics
40
160
Marking Scheme
1 mark will be deducted for each wrong response
With the help of the Assam CEE 2024 Exam Pattern, whatever doubts you may have regarding the question paper, such as what kind of questions are being asked, what is the level of difficulty of the paper, what to study, which topics are more important etc. will be clear.
For more query related to Assam CEE 2024 Syllabus along with the exam pattern you can ask in the below comment section. We will reply to you as soon as possible. Till then keep visiting this site to get latest updates. Good Luck!!!
Official Website: Assam CEE Syllabus 2024