AEEE Syllabus 2023: Amrita Engineering Entrance Exam is an entrance exam conducted at national-level for admission in Amrita Vishwa Vidyapeetham in to B.Tech course. To crack the entrance exam, candidates should know the exam syllabus first then the exam pattern. The syllabus of AEEE 2023. will be comprise of topics from Physics, Mathematics and Chemistry of class 11th & 12th.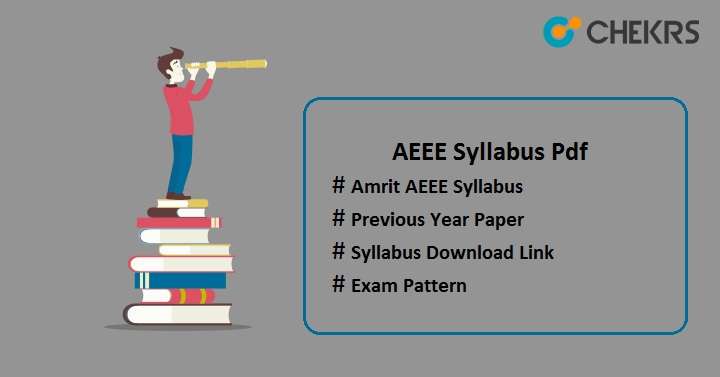 All the questions in the examination will be prepared based on the syllabus prescribed by the university for the engineering entrance exam of Amrita University. In this article, we are providing both syllabus and exam pattern to make things easy for you. Candidates must go through the complete Amrita AEEE Syllabus, The link is provided below.
AEE Exam Syllabus 2023 (Subject Wise)
AEEE Subject-wise Syllabus is provided here, check it and start your preparation now accordingly.
Courses
Syllabus
Physics

Units And Dimensions
Mechanics
Solids and Fluids
Oscillations and Waves
Heat and Thermodynamics
Electrostatics, Current Electricity and Magnetostatics
Electromagnetic Induction and Electromagnetic Waves
Ray and Wave Optics
Modern Physics

Mathematics

Complex Numbers
Permutations and Combinations
Binomial Theorem
Sequences and Series
Matrices and Determinants
Quadratic Equations
Trigonometry
Measures of Central Tendency and Dispersion
Probability
Differential Calculus
Integral Calculus
Differential Equations
Two Dimensional Geometry
The Straight Line and Pair of Straight Lines
Circles and Family of Circles
Conic Sections
Vector Algebra
Three Dimensional Geometry

Chemistry

Atomic Structure, Chemical Bonding and Molecular Structure
Equilibrium and Thermodynamics
Electrochemistry, Kinetics and Surface Chemistry
Solid State and Solutions
Hydrogen
S – Block Elements
P – Block Elements
D, F – Block Elements
Co-Ordination Compounds
Basic Organic Chemistry and Techniques
Hydrocarbons, Haloalkanes and Haloarenes
Alcohols, Phenols and Ethers
Aldehydes, Ketones, Carboxylic Acids and Amines
Polymers and Biomolecules
Environmental Chemistry
Chemistry in Everyday Life
AEEE Syllabus 2023 Official Link
The Exam Authority will provide an official syllabus on the Amrita University portal for the upcoming engineering entrance exam. But for the exam preparation, candidates can check the previous year syllabus, as the syllabus is not changed according to the official information we have till now. The syllabus is still available on the official website. If there will be any changes, we will update you after getting official notifications.
To check the Official AEEE Syllabus PDF: Click Here
AEEE 2023 Exam Pattern
Candidates need to check the exam pattern of AEEE to qualify the entrance exam in a better way. The AEEE Exam Pattern will help to check out the type of questions, difficulty level of question paper, no of questions, marking scheme, mode of exam, time duration of exam, etc. AEEE exam is conducted through both online & offline on different dates.
Candidates can see the Amrita AEEE Exam Pattern here
Subjects
No of Questions
Marks
Total Time
Medium
Physics
30
90
2 ½ hours
English
Chemistry
30
90
Mathematics
40
120
Total
100
300
AEEE Previous Year Question Papers
We hardly managed to collect some of the AEEE Previous Year Question Papers and Model Paper. All of them are listed below. We are still searching for papers and we will update the list whenever we will find them.
For Better performance solve all these AEEE Model Papers / Previous Year Question Paper. We are trying to find More Papers then we will list them here.
Official Website: AEEE Syllabus 2023 PDF