BITSAT 2019: The BITSAT is in the list of popular Engineering Entrance Exams attempted by the aspirants of the engineering field. The BITSAT stands for the BITS Admission Test. The Birla Institute of Technology and Science i.e. BITS offers a variety of courses, however, the institute is renowned for its Engineering and Post-graduate science courses.
Latest Update: BITSAT 2019 Notification and Application Form is expected to be released soon.
The BITSAT Exam is compulsory to be attempted for students willing to get their admissions in Pilani, Goa, and Hyderabad.
Get latest updates via SMS and Email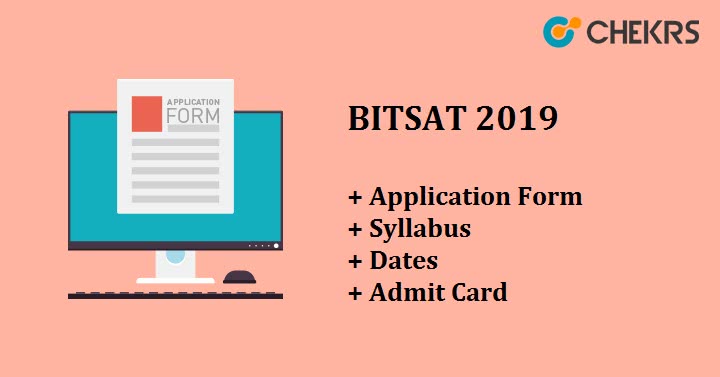 Here in the article, every student can relieve their queries for different subjects like eligibility, how one can fill the application form, BITSAT Important Dates, slot booking and post-exam information like cut off marks and results.
BITSAT 2019 Admission
As BITSAT is the gateway for students to get admissions and become part of the first degree courses offered at different campuses. The BITSAT Exam 2019 can be given for admissions in:
B.E degree is available here in Chemical, Civil, Computer Science, Electrical and Electronics, Electronics Instrumentation, Mechanical and Manufacturing. For pursuing Bachelors in Pharmacy also, BITSAT is the way.
BITSAT Test also offers admissions in B.Pharma and Masters of Science Courses in Biological Sciences, Chemistry, Economics, Mathematics, Physics and General Studies. Admissions in the university are also open to the board toppers with relevant subjects irrespective of their performance in BITSAT.
BITSAT 2019 Important Dates
We know how important it is for all to know the event of exams they have been aspiring for. Here in the table below we have mentioned all BITSAT 2019 Important Dates.
| Events | Tentative Dates |
| --- | --- |
| BITSAT 2019 Application | March 2019 |
| Editing of application form | 2nd/3rd week of March |
| BITSAT Slot Booking | 2019 March End |
| Hall Tickets available | April 2019 |
| Exam | April 2019 |
| BITSAT Result | May 2019 |
BITSAT 2019 Eligibility Criteria
Being the top-rated university, it is obvious that a lot of students apply for getting their admissions done. Well, to make sure that each applicant has the fair knowledge of applying, read out the BITSAT Eligibility Criteria.
Qualification: The students should have passed their 12th class examination with 10+2 system from a recognized board.
Marks: The student should have passed with an aggregate of 75% marks with the subject Physics, Chemistry and Mathematics/Biology. Also, for the individual subject the minimum marks are 60%.
Passing year: The applications will be accepted for only those who are appearing in board examination for the same year or passed it a year before i.e. 2019 and 2018 pass outs can apply.
BITSAT 2019 Application Form
To appear in the exam, it is more important for all willing students to follow the dates and submit their application forms timely. For all, here we bring a few of them.The BITSAT Application Form Date will begin in January and last till mid march.
For the computer-based test, BITSAT Application Form also needs to be filled online before the due date. The submission involves a process which is been listed here with easy to follow steps.
How to Apply for BITSAT:
Open the website link bitsadmission.com
From the home page find the application form link and open it.
Once, complete the online application form will appear on the screens.
Proceed further after entering the correct information, as asked to fill.
Recheck all that you have submitted and click on submit.
Once the form is submitted, click on the option of fee payment through online mode.
BITSAT Admission Fee will be:
For Male Candidates: INR 2950/-
For Female Candidates: INR 2450/-
BITSAT Exam Pattern
The students appearing in the exam will have to go through MCQ based question-answer pattern to be attempted online. Here we are giving you the idea of how the pattern would go on.
The Multiple Choice based exam will have the following guideline:
Subjects: Physics, Chemistry & Mathematics/ Biology and English Proficiency and Logical Reasoning.
Questions: Total 150
Marking Scheme: 3 marks for each correct answer and negative marking of 01 marks in every wrong answer.
Time: 3 hours
Part
Subject
Question
I
Physics
40
II
Chemistry
40
III
English Proficiency
15
Logical Reasoning
10
IV
Mathematics/Biology
45
Total
150
BITSAT 2019 Syllabus
The syllabus is the most important BITSAT Preparation Guide for all aspirants. Though there is nothing out of context is asked, however, syllabus helps every student to review the important topics such what extra topics have been added.
The BITSAT Syllabus Pdf provided will also help students to learn changes for the exam. The syllabus is one of the most reliable and easily available resources to equip complete course of the exam.
Here in the BITSAT 2019 Syllabus we have detailed topics subject wise for easy and effective understanding. Here a few of the best books recommendation can also be found in the detailed article.
BITSAT Preparation Tips
For each and every student who participates in the competition also intends their selection for sure. Here, we are sharing few tips in How to Prepare for BITSAT.
Make a timetable and better to follow it until the main date.
It is advisable to prefer NCERT books of class 11th and 12th for best
Prepare from BITSAT Best Books rather than reading out different refreshers.
You can take self-analyzing sessions by preferring to previous papers.
Don't skip BITSAT 2019 Free Mock Test available here for brushing up your skills.
BITSAT Slot Booking
As the exam will be organized online, students will have to make sure that they are cautious for their slot bookings.
Though online, the test will be conducted on different dates across different regions. Through keeping eyes on BITSAT Slot Booking Date, participants of the exam can learn which the main date for them is.
Contenders will be able to know their exam date here and instructions for the exam.
BITSAT 2019 Admit Card
The BITSAT Hall Ticket is important for all those students who will be participating in the online test. In order to get entry at the exam hall, admit card will be the only proof they can have.
Once participants are done with their slot bookings only then those who have done it will be able to download admit cards.
The BITSAT Admit Card will be available on the website one week earlier of the exam date. It can be downloaded more easily through the navigation provided on the websites.
BITSAT Cut Off Marks
As the BITSAT is one of the university level competition test, the cut off marks will decide who are the rank holders.
Through BITSAT Cutoff 2019 students will know whether they have will be able to secure a seat or not. Here we are providing a detailed
The cut off marks for BITS is not classified into caste category rather it is different for each course. The BITSAT Cut Off provided by us will help all participants know the benchmarks set for the year.
BITSAT 2019 Result
For every participant of BITSAT, it is easy to know their result and performance post to completion of the test.
Once the BITSAT online test is finished, the participant can check on the screen how many questions attempted by him/her were wrong and correct. However, it does not indication qualifying criteria.
The marks scored by the individual can also be checked on the website next day. However, the BITSAT Result 2019 Date will determine who has made up to the level.
All of the updates regarding result can be check at first by taking BITSAT Rank List here.
BITSAT 2019: Official link